By Monk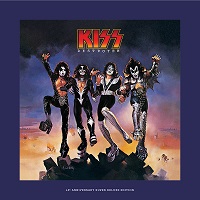 If there is one word guaranteed to making an aging rocker feel even more ancient and decrepit than they probably already are it is "anniversary". But it is also a testament to the longevity of both us and the music that we love so much that many artists and albums are marking significant landmarks. This year alone marks the 50th anniversary of Led Zeppelin's seminal 'IV' and, in a different mien, three decades of Metallica's 'Black' album… I could probably go on to fill the space I have for this review with a seemingly endless list of other releases marking such occasions. Now, as 2021, the year in which music was reborn, hurtles towards its eventful and Covidicated way towards its weary conclusion, we mark 45 years of an album on which fans initially turned their backs but then adopted to make it the biggest selling release in the band's history – 'Destroyer'…
In addition to the obligatory remix of the original album, this anniversary edition comes with the also obligatory raft of extras, making it up to a mammoth 61-track four CD boxset. Disc two features features 15 demos – nine of them previously unreleased, from Paul Stanley's and Gene Simmons' personal archives; disc three features the expected plethora of alternate mixes, including several mono versions obviously designed for AM radio stations, early demo and instrumental versions and out-takes. The fourth and final disc features 12 songs recorded live in Paris in May 1976, during the promotional tour for the album.
There is plenty here to keep the true KISS aficionado occupied for hours on end. For example, there are no fewer than five different versions of 'Beth', including a formative acoustic rendition, the end of which only ever has seen the light of day before (on the album version), which if anything is a better representation of the song than the orchestra-laden one featured on the album, and which itself serves as an eloquent companion to two beautifully-rendered acoustic renditions. Indeed, as one might expect there are several songs replicated in multiple versions, including four alternative versions of both 'Detroit Rock City' (including an instrumental version plus extracted copies of both the intro and the car crash ending) and three of 'Shout It Out Loud'. The most interesting "alternative" version is Paul Stanley doing the lead vocals on a demo of 'God Of Thunder', which definitely put a different twist on what we would expect from the song.
KISS are one of those bands who instill a fierce sense of loyalty in their fans, the most devoted of whom are almost fanatical in their desire to possess anything and everything associated with the band. Therefore, I have no doubt that this extensive revisiting of one of the band's most controversial but equally beloved albums will be top of those aficionados' Christmas shopping lists…
As for the rest of us: well, the original album on its own reminds us of the flawed genius that Messrs Simmons and Stanley have displayed all the way through their career, on the one hand writing fist-pumping anthems that have stood the test of time, on the other producing an abundance of sheer drivel: thankfully, the memories of the former outweigh those of the latter, as 'Destroyer' exemplifies…
'Destroyer (45th Anniversary Super Deluxe Edition)' is released on 19 November. You can get your copy HERE.
All content © Über Rock. Not to be reproduced in part or in whole without the express written permission of Über Rock.