By Jim Rowland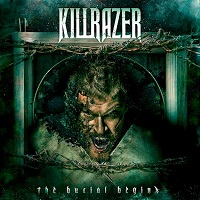 Hailing from Sydney, New South Wales, Aussie thrashers Killrazer have been a fixture on the Australian metal scene for quite some time, originally forming back in 2005. They've done Australian support slots with the likes of Malevolent Creation, Dismember, Children Of Bodom, Vader, Sodom and Destruction and have also been the touring band for Paul Dianno, Blaze Bayley and Tim Ripper Owens, who guests on the album. Despite that history, 'The Burial Begins' is actually the first time the band have released a full-length album.
Taking inspiration from classic bands from the more brutal end of the thrash spectrum such as Kreator, Sodom, Deicide and Morbid Angel, Killrazer are forging ahead within the thrash genre rather than just recreating the old school. This is brutal, technical, precise and dark, incorporating a death metal approach in the vocal department.
The likes of 'Salt In The Wound', 'The Legions', 'Unleash Hell' and 'Silence Your Insolence' are all-out, full-pelt death/thrash attacks of brutality that take no prisoners. 'Suicide Command' and 'Seven Years' incorporate complex arrangements and multiple tempo changes to great effect, with the latter's leftfield approach bringing the great Voivod to mind for me.
A highlight is 'Sunken', a doom laden seven minute-plus epic that twists and turns through different moods and textures from the melodic to the downright dark and disturbing. Tim Ripper Owens guests on the cover of Judas Priest's 'Burn In Hell' which, as fine as it is and while beefed up a bit from the original, still sounds slightly out of place amongst the sheer brutality of the rest of the album.
The production here is top notch, as is the musicianship. 'The Burial Begins' is a belter of a debut album, even if it took a long time to arrive, and illustrates why Killrazer are held in such high regard on the Australian metal scene.
'The Burial Begins' is released on Friday (12 November). You can get your copy HERE.
All content © Über Rock. Not to be reproduced in part or in whole without the express written permission of Über Rock.