By DJ Astrocreep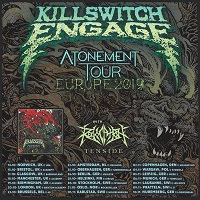 When metal titans such as Killswitch Engage come around, it's rather silly to not make the effort to go see them. After a few near misses in the past, when gig clashes or health issues have stopped me attending, there was no way I was missing them playing so close to me. Getting there early for a quick chat with drummer Justin Foley, I settle down in an adjacent bar to await doors and my second heavy gig of the week.
First on are German metallers Tenside, a band who have quite the following of their own. It's noticeable that while most don't seem to be paying attention, the venue being around a third full as they take to the stage, this changes quite rapidly, as the shouts and applause at the end of songs grows even as the audience does still further. They craft quite an enjoyable sound and their English is great, meaning the vocals are both understandable and quite easy to follow. Daniel's vocals are rough but not unintelligible and the band around him are tight and clearly known their roles well – something that their 18 years as a band will have helped with. There's also a touch more groove to their music than your average metalcore band, in some ways not dissimilar from the likes of In Flames. The crowd is not far from full by the end of their set and there's good appreciation for their set, which has been hard earned with a quality set.
Massachusetts metalheads Revocation have been around a few years themselves, bringing a brand of Death and Thrash metal, with a hint of core, into the fore. The venue is rammed at this point – it feels like a mosh pit just trying to get past people to say hi to a friend, as everyone is jostling for the best positions. I've seen them before but wasn't too impressed by them – I certainly remember getting the mosh pit to link arms and hoe down dance – so was a touch wary of what was to come. Luckily, either they've got a lot better or my tastes have changed sufficiently to appreciate them, maybe both. The atmosphere goes from fairly non-plussed at the start of their set to one that definitely picks up on the music and booze can't be solely to blame, the bar queues are too long for that! It's a good set that garners a bit of a mosh pit and a fair amount of approval at the end. Job done!
So, it's Killswitch time and the question is, after a mere three previous nights on the tour so far, are they going to be fully engaged with the task ahead, in front of a capacity Mancunian crowd? The answer, in a nutshell, is a resounding yes. Had they left Manchester Academy in a heap of smouldering ashes at the end of the night, the building would have been no less destroyed. The loudness of the roar as the house lights drop for their arrival is a good sign of what's to come, with the atmosphere an incredible, roaring beast of a signal fire *ahem*, stoked by both the band and audience alike.
From where I was perched, the wires from the ceiling down to the sound and lighting technical desks were 'My Curse' all night, though it wasn't 'The End Of Heartache' when 'Holy Diver' rings out as their 'Last Serenade'. The hairs on my arm stand on end as, during 'Rose Of Sharyn', the volume from the crowd gets so loud that the band are actually drowned out, with it not just having personal meaning to me, but also as the song that brought me into the fold. As Jesse himself is compelled to tell us all later in the set, nights like tonight mean everything to him and to the rest of the band – well I can guarantee that that is far from one way! As their lyrics themselves say, '…it won't be long, we'll meet again… your memory is everlasting'…
The tour continues at the O2 Academy in Birmingham tonight (Saturday 19 October) and finishes at the Brixton Academy tomorrow (Sunday 20).
As mentioned at the top this piece, I had the opportunity before the gig to sit down and have a chat with KSE drummer Justin Foley:
All content © Über Rock. Not to be reproduced in part or in whole without the express written permission of Über Rock.