By Monk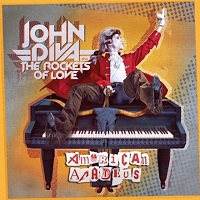 One thing which characterizes hard rock and heavy metal and places it apart from other musical genres is its ability, and willingness, to look itself in the mirror, stick its tongue out and then place same very firmly in its cheek… Yes, it can take itself terribly, terribly seriously, and overly so in many cases, but when it comes down to simply having fun and taking the piss, it is unequalled. And the latest act to exemplify this able characteristic is Mr John Diva and his Rockets Of Love.
UR first came across the, shall we say, rather colourful Diva and his sidekicks back at the tail end of 2018, when their wonderefully camp video for debut single 'Lolita' transported us energetically back to the heady days of David Lee Roth's early solo albums and Y&T's MTV smash hit single 'Summertime Girls'. This was followed a few months later by their ironically titled debut album, 'Mama Said Rock Is Dead', which had us casting aside any cares about the state of the world at the time in the interests of wrapping our lugholes around some old-fashioned, carefree, good time retro rock 'n' roll: it just worked. Now, almost exactly two years later, JD and his rocket boys have returned to help us to that once more, exploding (sic) back onto the virtual Über stage with this, their confident and strident second album…
In fact, it could be argued that JD&TROL have laid aside some of the more obvious parody and self-aware pastiche that made their first album so adorable in favour of a more "serious" approach, where the music is much more to the fore in terms of its emphasis on the band's ability to play and deliver some serious rockin' tunage (not that that was ever in doubt on 'Mama…', as it would not have struck such a chord if they hadn't been able to seriously rock our amidst all the fun and rock 'n' roll gamesmanship). Yes, the tongue-in-cheek sense of humour is still very much to the fore, especially on the likes of the title track, follow-up 'Solider Of Love', lead single (and previous 'Video Of The Week' award winner) 'Bling Bling Marilyn', the whirling Poison-esque dervish dance of 'Weekend For A Lifetime' and the declaratively-titled, Darkness-evoking 'This Is Rock N' Roll'.
And it is this point which once more, as on 'Mama…' brings comparisons between the Rockets and the likes, especially, of Steel Panther. Both bands show an enormous respect for the hair metal heritage which they evoke, paying homage to the OTT ridiculousness of the subgenre while at the same time doing so with a slightly disrespectful exposure of same. And it cannot be denied that both bands not only can produce wonderfully crafted, arena-filling anthems, but also can play their damn instruments – and, at the end of the day, this is what makes this sort of thing work, on every level.
Another obvious comparative is that both bands take the business of having fun extremely seriously: it would be so easy for a band operating in this mien to take the Bad News/Spinal Tap approach of low production values and taking the piss for the sake of it: however, in common with Satchel, Starr and co, Diva and his band of lovers pay the ultimate attention to detail, from the massive singalong choruses through the brilliantly executed harmonics and melodies, the underlying sewer grit of the riffs and the driving power of the rhythms through to the precise and evocative production, which draws out every one of the multiple nuances which it may surprise many listeners to hear populating every element of this massively impressive opus.
'American Amadeus' is an album which showcases a band maturing, developing increasing confidence in what they are doing and working hard at their craft. It is also an album that very much stands on its own two feet, with many of the points outlined above accentuating its strength and capability as possibly the most gloriously OTT hair metal album to be released in many a long year. Having fun is definitely a serious business and these lover boys definitely are seriously good fun…
'American Amadeus' is released on Friday (15 January). You can get your copy HERE.
John Diva And The Rockets Of Love will stage a free online release show, also this Friday, at 7pm GMT.
www.facebook.com/johndiva.rocks
All content © Über Rock. Not to be reproduced in part or in whole without the express written permission of Über Rock.