By Jonny Bakes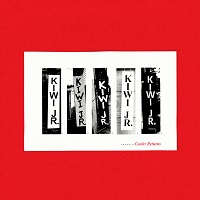 This album is one that stirred up some conflicting emotions in me because on one hand it's something that is pretty far outside of my usual listening sphere, however it is also quite similar to the kinds of bands I was listening to over a decade ago. As a result, it's something that feels pretty alien, yet also quite familiar and I have a feeling that it may feel like that to quite a few people. The root of this is that Kiwi Jr have crafted a sound that is both upbeat and modern but heavily steeped in nostalgia that harks back to the likes of The Kinks, The Byrds and, more recently, early The Strokes and the emergent indie scene of the 00s.
The Canadian outfit's debut album, 'Football Money', was released only a year ago, yet feels like an entire lifetime ago, and received a significant amount of strong press from Mojo, The i Paper and The Wire. With a promise of transitioning from "crunchy to smooth' in 2021 with a more polished sound in the form of sophomore release 'Cooler Returns', it was time that URHQ took notice and delved into the wacky world of Kiwi Jr. And I'm just the guy for the job.
Overall, the album is packed to the rafters with catchy riffs and scthingly observant lyrics with a sound that has a very strong undertone that took me a long time to place my finger on. Eventually I figured it out – it's country music! This explains why I frequently found myself reminiscing about the time I bought The Byrds greatest hits, as they were one of my first strong exposures to the blend of American country music and rock to form their signature sound in the late '60s. The combination of this with riffs and drum beats that feel like they've been lifted out of the peak of the indie scene provides an upbeat sensation that could warm even the coldest of hearts.
A lot of the magic of Kiwi Jr is hidden in the lyrics in the way that they provide some dry observations of the current state of play, and there's even some unexpected references to some distinctly British things too. "They dug King Richard up in a parking lot" was something I was not expecting to hear from our friends in the Great White North, but here we are! There are observations from recent years like the Glasgow Art School fire, references to last year's less than successful Superbowl Sunday and some claims of Maid Marian's promiscuity…
One of my favourite tracks on the album has to be 'Waiting in Line' as it is so upbeat that it even managed to give me a burst of energy after a particularly long day. There's liberal use of both piano and organ that piles on the energy that makes it a song that grabs you attention. What's interesting is that this is the final track on the album, so you end up finishing your play through with a lasting memory of the light and airy nature of this last track. It makes you want to just stick the album on again and have another listen (which I did several times!).
So, yet again, this is something that I probably wouldn't have given a second glance had I come across it online. However, I've taken the time to listen to it and it is indeed very good! I think it'll appeal to indie fans for sure and could also be a surprise enjoyment for fans who generally find themselves falling back on their '60s music collection and are open to trying something new. For me, it'll probably crop up on my rotation from time to time when I'm in the mood for something upbeat and summery to get me through those bleaker times (which are more abundant than I would like at the moment!).
'Cooler Returns' is released on 22 January. You can get your copy HERE.
All content © Über Rock. Not to be reproduced in part or in whole without the express written permission of Über Rock.