By Jase Walker
Rarely does a band suddenly get talked about so much in my social circles so quickly like Ithaca has. I've known these guys for a reasonable length of time, but the lead up to the new album 'They Fear Us' has somehow managed being the subject of so many of my friends' lips that it's actually pretty amazing. Not only that but seeing posters for this forthcoming release splattered all over multiple festival walls in the lead up was also very noticeable.
And not without good reason. The singles leading up to this release that have built into stepped EP releases (a pretty common tactic in the streaming era) have built the hype train for 'They Fear Us' into a force to be reckoned with and are cleverly the first four tracks in this nine-track album.
Albums that hover around nine/ten tracks that are all outstanding quality have fast become one of my favourite release styles, rather than something in the late teens with some great tracks and the rest being a bit middling in terms of their impact. Ithaca opting to go with their four singles as the opening section is a master stroke since it leads in the listeners who tend to be more…  shall we say sporadic? With more familiar tracks, each bleeding into each other with seamless blending and especially with the albums title track, 'They Fear Us' being so soon in it which is a wonderfully brutal mix of filthy uncleans and fast, intense riffage.
The singles end with 'Camera Eats First', which has some delightfully Meshuggah-esque grooves in the verses all leading into a massive soaring chorus which falls away to crush you with its bridge section, brilliant stuff.
'They Fear Us' is testament to Ithaca's maturation in terms of songwriting, being able to maintain intense grooves and brutal vocals that don't feel oversaturated and being able to add in sections that are more dreamy and ethereal without it feeling jarring or forced. 'Number Five' is a good example of this, abusing juxtaposition to great effect, a chorus bit that feels haunting as well as having a verse section that is angry as fuck.
'Flourescent' stands out as more of a traditional metalcore styled song that seems to lean into a sound that the likes of Spiritbox champions as having deliciously crunchy chugs while the vocals layer over the top. The main riff is captivating and hypnotic, intensely melodic, compounded by Djamila's vocals going wild over the top of it.
On the lead up to the finale, the penultimate track of 'You Should Have Gone Back' has an incredible opener to the song of tasteful guitar playing and use of melody before leading into an incredible intense, yet melancholy high point in the middle and then back down to a dreamy and atmospheric bridge.
And finally with 'Hold, Be Held', the album wraps up with a lovely chilled outro that's very much at odds with the rest of the albums intensity but by no means feels out of place or is any less strong. Ithaca's choice to end the album with this is a fantastic choice that again puts on display their superb songwriting prowess, 'They Fear Us' is a bloody fantastic album that is easily one of my favourite releases of 2022 so far. This is an album that will no doubt cross many different strokes of metalheads, Ithaca have firmly cemented themselves as a brilliant musical act with this and i'll be making sure I go out of my way to get to as many live shows as I can over the coming years!
'They Fear Us' is out now. You can get your copy HERE.
Ithaca kick off their latest tour in Manchester tonight (Wednesday 3 August):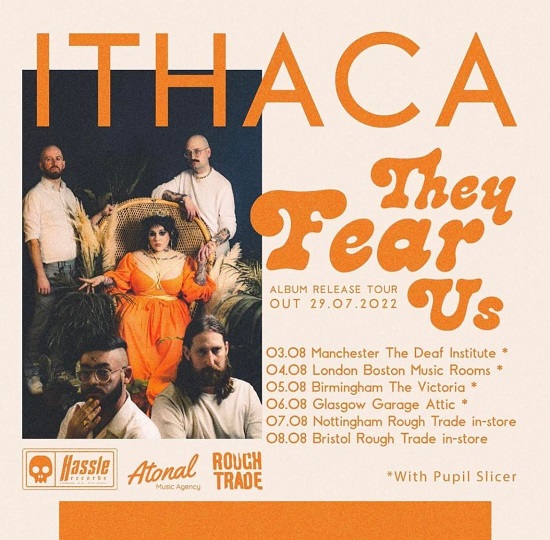 All content © Über Rock. Not to be reproduced in part or in whole without the express written permission of Über Rock.