By Jase Walker
York-based metalcore outfit InVisions arrive in one of Manchester's steadily more popular venues, The Bread Shed as unfortunately, due to a positive Covid test prior to the penultimate show of the run, Ghost Iris have had to drop out and return to Denmark. The line-up for tonight's show therefore is now local metalcore outfit Clashmute, local prog metallers Blind Summit as direct support and InVisions to cap the night off.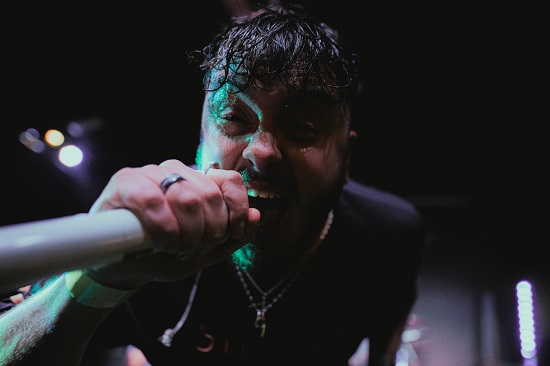 After a brief interview with the InVisions lads, who despite the trials and tribulations of touring in the current state of affairs come off as particularly upbeat and happy about how the tour's gone so far, I'm excited to see them smash it up again in Manchester. I'm also hyped to see Blind Summit again since the release of their latest EP, 'Hell and Heresy'.
With an earlier start than initially anticipated, Clashmute are up first to give The Bread Shed a taste of northern metalcore. Following up an ambient intro with a riff that goes straight for the throat, Clashmute are getting the audience to fill straight to the front, always great to see. With a sound that's reminiscent of Killswitch Engage, using crunky riffs overlaid with hyper-melodic tapping and arpeggios; admittedly it sounds a little thin without a live bass player, but it doesn't detract from the solid songs they're kicking out.
To Clashmute's credit, they know how to write a throwdown riff, even when it's randomly punctuated by an inspector gadget run for a bit of comedy. As they've pointed out this was a very last-minute thing for them so I'd love to see how these guys thrive off a bigger crowd that knows them well, the pits would be unreal. For an absolute last-minute addition, these were a solid choice to support InVisions, even including getting screamed at in the face by the singer! Hopefully I'll be in one of their pits in future!
A sound local favourite of mine, Blind Summit are up next, with their signature fat proggy sound, chunky riffs and tasteful fills for days all fronted with a singer whose voice is as soulful as it is soaring. The new stuff from the latest EP sounds massive with its roaring, dirty, grinding tone enough to make even the most purist of djent-heads gurn. But that's only one facet of their sound, the atmospheric layers that surround it all make for a real satisfying aural treat.
With some songs sounding similar to Sordid Pink (formerly Destiny Potato) or Monuments, they ebb and flow between ethereal passages to absolutely filthy verses that punch straight through your chest with every hit. With Alexandra at the forefront of all this delivering vocal layers that wouldn't sound out of place on a Bruno Mars track, they've got the audience transfixed with their performance. The new stuff sounds brilliant, seriously go give their EP a listen and maybe check them out when they're in your neck of the woods.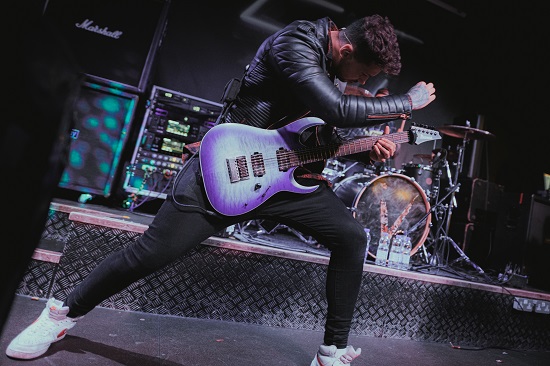 With a now pretty full venue, InVisions get people moving right from the word go, there's barely a soul in here which isn't throwing down right here and screaming the words back, smashing stuff. Seeing an audience and a band going at 110 per cent right from the outset is a real joy to see, like a pandemic never happened between the last time InVisions came to Manchester, the thirst for massive riffs of the crowd is literally insatiable and InVisions are here to give it.
With a core of the audience throwing hands and smashing into each other at any given opportunity, a verse riff? Yep. A breakdown? Yep. Legitimately the moment another song starts? Absolutely. 'Good For Nothing' goes down a treat with a riff that's reminiscent of Architects' 'Doomsday' the crowd is going wild and wrecking The Bread Shed! I legitimately don't think we've had a single song without a massive moshpit!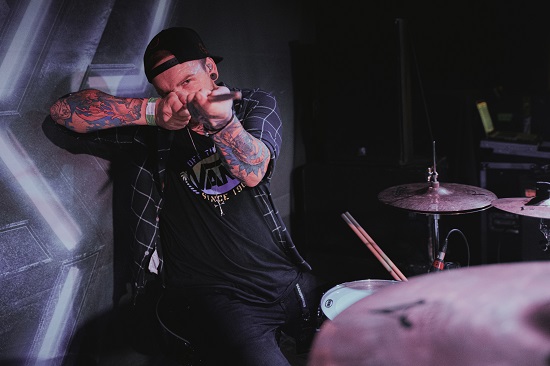 A little treat in the form of the title track of their forthcoming album, 'Deadlock' with its thunderous hammer on chugs and a soaring chorus, showcasing a signature sound of British metalcore right now and doing it bloody right. InVisions have commanded probably one of the most active shows I've seen in The Bread Shed to this day, every song charged with relentless energy which translates to a crowd that's just gone absolutely bloody wild the entire time. This shows the dedicated fanbase Invisions have built up over the years who are entirely committed to losing their shit for the whole gig. Can't wait to get my ears around 'Deadlock' when it drops in February. See you in the pit next time you're here lads.
PHOTO CREDIT: All photos © Cris Greaves. Copyright remains with the photographer.
All written content © Über Rock. Not to be reproduced in part or in whole without the express written permission of Über Rock.