By Jase Walker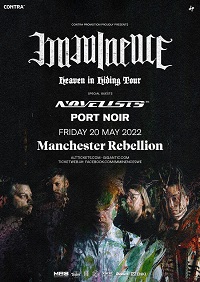 Continuing my rather busy week, I'm returning back to my usual Manchester gig haunt of Rebellion. Tonight this is host to Imminence supported by two of my favourite bands, Novelists and Port Noir so it's a bit different to a lot of the other shows I've been to recently where I'm seeing and hearing the supports for the first time.
The piss-wet weather apparently hasn't dampened the spirits of the already pretty big line of people queuing up outside but we're not wasting any time getting in, doors are earlier than expected at 6:30pm today!
The running order on the door appears to be at odds with the actual order as it's stated that Novelists are on first but the rather massive "PORT NOIR" in bright lights on stage suggests otherwise. Given the intro as they walk on stage, yep that's definitely Port Noir so I guess we're in for some sexy synthy goodness right off the bat tonight then!
Hitting me with the fattest bass I've probably ever heard in this venue that's making.my legs shiver along to it's reverb – that's not the bass guitar by the way, these guys love a good synth hook and on the first song, they're going for meaty bass. Onto the second song and it's quite apparent that the bass guitar is also set to "bollock shakingly strong" – not that I'm complaining! I absolutely adore Port Noir's fusing of pop sensibilities with proggy elements, prog you can really bop to.
Playing one of the more well known tracks off 'The New Routine', 'Young Bloods', probably my favourite album of theirs too! Next on is one of the tracks off their latest album which I somehow missed,'Sweet & Salt'; I'm actually quite annoyed at myself so I'll be making it up by rinsing it for the next month, promise! Finishing off with 'Old Fashioned' which is legitimately my favourite song and finishes the set with some top class, what a song. Also come back and do a headline set, ta muchly.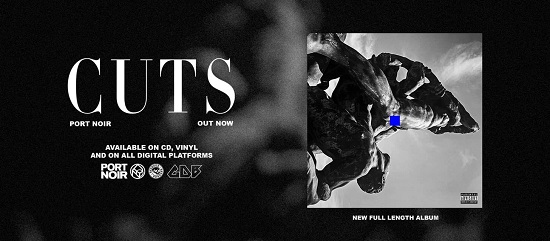 Novelists are up after a pretty quick changeover,  and I'm excited to see what they do with their new singer! I'm hoping they'll still play a few numbers from 'Noir'! Although he's got quite a different sounding voice to their old singer, he's doing a smashing job of pulling double duty and Novelists sound massive. Rebellion has also gone from busy-ish to absolutely bloody packed: it was a squeeze getting a space coming back from the bar! I seem to recall not being blown away by 'C'est La Vie' when it came out but the way they're smashing out some of the songs from it is making me doubt my own memory: I think I'll be going back and giving it another try!
Going back to an older song (hell yeah) they hit us with 'Gravity' from their 'Souvenirs' album, and that is going back a fair bit! Honestly Novelists tonight are sounding fantastic, everything is balanced, the guitars and bass are working together fantastically and the drummer despite being off to the side comes through great and the singer right over the top. With a couple of tracks off their latest EP, especially 'Do You Really Wanna Know?', Novelists are putting to bed any possible thoughts of whether they were past it. The songwriting is definitely more mature but it's every bit as visceral as their earlier stuff. Throughout this whole set there's been more guitar solos than you can shake a stick at and they've all been shreddy and damn tasty. Finishing with my personal favourite, 'The Light, The Fire', I am fully satisfied with this set, and what a banger it's been. Merci beaucoup!
Novelists play TechFest over the weekend of 30 June – 4 July.
A strange smell of incense starts permeating the air in the lead up to Imminence getting on stage, not sure if this is a performance device or someones decided to hit a pipe a few times, all I know is that the loud rumble going through the venue is leading up to the final act. The venue, now completely packed, screams their lungs out immediately for Imminence, and I spy the violin wielding singer I've been told about. I also don't think I've seen smoke machines this powerful used here before, it's making taking a rubbish phone photo a pain though!
One thing's for sure though, I am amongst a crowd that are very much here for Imminence and are massive fans, you can clearly hear everyone singing back almost every word and going bananas any time there's a breakdown.   Imminence show off some top tier stage performance all the way through this set, the singer effortlessly jumping between directing the audience, singing and then busting out some slick violin solos – some solid skill that.
This whole night I've gotta give some big props to whoever's doing the sound for the bands tonight, they've all sounded fantastic and Imminence has really taken me by surprise so I'll definitely be following up on this and rinsing their discography a bunch. I feel very privileged to have been able to see these on one of two UK dates, and not just that, but at one of my favourite venues in Manchester.
This whole night has been top class and not only have I gotten to see two of my favourite bands again, but I've got another potential one to get familiar with from this. What an immense gig.
All content © Über Rock. Not to be reproduced in part or in whole without the express written permission of Über Rock.