By DJ Monk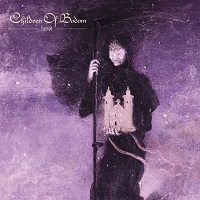 It's Devil's Night and Über Rock's favourite day of the year is nigh… yes, we're talking Halloween, and what better way to continue our countdown to the most important date on the calendar than in the company of Children Of Bodom?
The Finnish dark lords have, just this very day, released a stunning animated video to accompany the title track of their current album, 'Hexed'. And we don't use the word "stunning" lightly, as the clip has been a real labour of love. Students on the Bachelor of Design (Animation & Interactive Media) course at RMIT University in Melbourne, Australia spent 3000 hours and 15 weeks putting together the visuals, under the guidance of their tutor, Aaron McLoughlin, and fellow producer Simon Norton.
McLoughlin said of the final product:
"We drew inspiration from the song lyrics as well as the monochromatic imagery found in Children of Bodom's videos and album art. We decided a black and white horror film would be cool – set on a lake, of course!
"Although 'Hexed' is a fast track, it's also particularly measured in the way it plays out over the 5-minute duration, so part of the fun was crafting a cinematic narrative that flows with the amazing technical precision of the music. The animation students at RMIT University are some of the most talented rising stars in the world, and I think they've done a terrific job on this project. Animating metal videos is such a fun thing to do at university, and the team felt very honoured creating this film for Children of Bodom."
CoB bassist Henkka added:
"It's such a cool thing to have a video of one my  favourite tracks of the album. And the fact it's  made by Aaron and his 25 students in Australia is even cooler.  The black and white calm mood suits perfectly to this not-so-calm song. The lake and it's reflection makes a perfect ending for it."
So, without further ado, feast you eyes on the brilliant result:
www.facebook.com/childrenofbodom