By DJ Astrocreep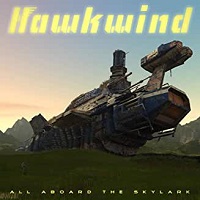 When a band hits their 32nd studio album and 50th year, is it even possible to remain fresh, new or even relevant? Dave Brock and friends have some legacy to live up to, a weight that isn't born well by everyone. So, have they lived up to expectations? The answer has to be a resounding yes.
This album comes in two discs, 'All Aboard The Skylark' and 'Acoustic Daze', the former being the new album with the latter an acoustic reimagining of some classic Hawkwind tracks, both of which do the band great justice. The tracks on 'Acoustic' Daze have lost none of their power or efficacy, despite the stripped back nature of the reimagining, which is again of great credit, as that could have gone really wrong, even though Dave has been doing some live acoustic shows to have at least an element of idea of how to decide which tracks and how.
In terms of the brand-new album, it certainly sounds like a blast from the past. Hawkwind have very much returned to their space rock roots with this effort, albeit with the modern production values that their early work would clearly lack due to availability. Whether it's the title track, linked above, or album opener 'Flesh Fondue', linked below, that more traditional Hawkwind sound is there that has done them such great justice before and remains a stalwart fan favourite. The production on the album is excellent – even listening to this on my phone, I can hear the warmth and various individual parts with real clarity. 'Last Man On Earth' is a more acoustic with backing song, not dissimilar from the likes of 'The Demented Man' from 1975 opus 'Warrior On The Edge Of Time', or 'Fable Of A Failed Race' from 'Quark, Strangeness and Charm' – the latter being a closer overall feel to it.
I make no bones about being a Hawkwind fan – they're in my top three all-time bands – but even allowing for that, looking objectively this is still a very well written and produced album. It will certainly make old fans happy, while the new production values have enough to them to make it as relevant to fans of their proggier side of writing, rather than alienating them. In a year of excellent releases across the board, it more than holds its own. This should be added to your music lists.
'All Aboard The Skylark' is out now. You can get your copy HERE.
Hawkwind start their 50th anniversary tour in Brighton on Sunday 10 November, with full dates as follows: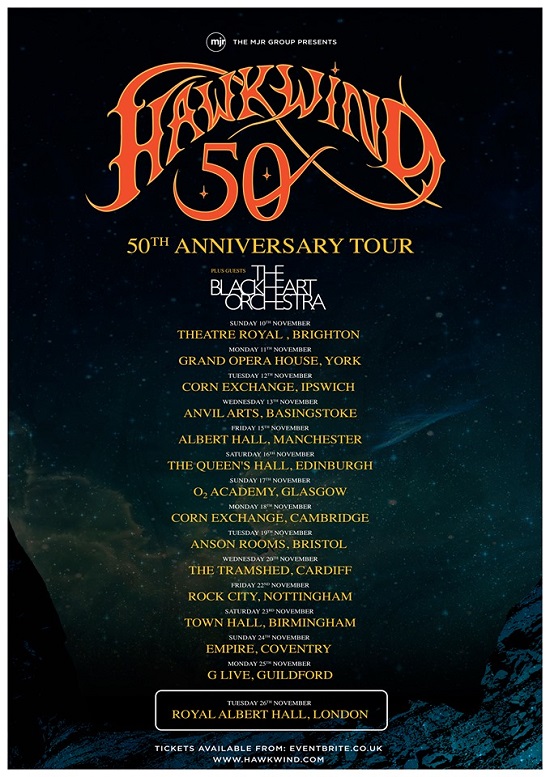 They also will headline the Grooverider stage at the Ramblin' Man Fair on Sunday 19 July.
All content © Über Rock. Not to be reproduced in part or in whole without the express written permission of Über