By Monk and The Dark Queen
If there is one date on the calendar that is more important to emerging heavy metal bands than Christmas, Easter and their collective birthdays all put together, it surely must be the day they perform on the New Blood Stage at Bloodstock. Having served as a launching pad for so many bands to propel themselves on to bigger stages, it is little wonder that the title of 'Metal 2 The Masses Champion' is as coveted as the Tour de France yellow jersey or the Open green jacket.
Having judged the competition in this particular corner of the Überverse for a glut of years now, I can assure you that it gets tougher every year, and 2022 was perhaps the toughest yet, possibly due to the Covidications which had stopped the 2020 contest dead in its tracks, resulting in the 2021 one having to be judged virtually, in turn giving the bands a fierce new fire in their bellies. Each and every act left it on the stage, but there could only ever be one winner… which brings us to this evening's proceedings, a sort of celebration party mixed with a warm up for the main event at the beginning of next month…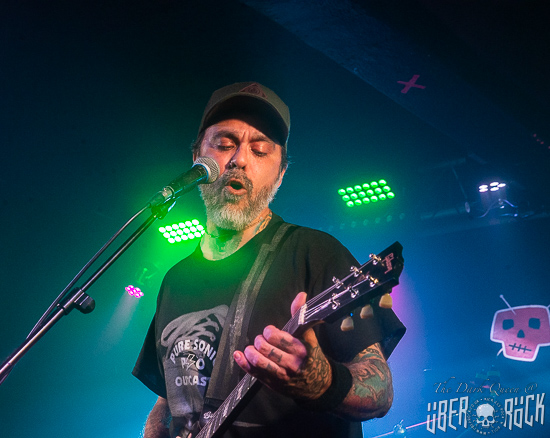 Openers Puresonic Outcasts are one of a number of bands we will encounter this weekend (which sees local promoters The Distortion Project taking over our favourite venue for two consecutive nights) whom we first came across via their involvement in the aforesaid M2TM shebang… Now, I have to admit that I had mixed feelings about their performances in the competition, and indeed thought that their last appearance, in this year's third semi-final (yes, you read that right… only in Ireland, eh) was extremely disappointing.
Well, they must have been having an off night back then, as tonight is a totally different proposition, as it sees the quartet in much more impressive form, slowly building the atmosphere through a heavy doom-encrusted vibe, with emphasis on a huge bottom end. However, one criticism remains painfully obvious from my previous encounters, and that is the lack of vocals; largely instrumental led, it is not until halfway through the second song that we get any kind of vocal interaction – and when it comes it is all the more impressive for its match with the rawness of the underlying instrumental soundscape, which itself is characterized by dense, grinding riffology punctuated by almost progtastic sensibilities.
PSO have obviously put a lot of work in since their protracted M2TM sojourn, and while they still have a way to travel, they definitely are heading in the right direction.
ForeignWolf were supposed to take part in that aborted 2020 M2TM, but instead first introduced themselves to us a little more than a year ago, when their rather impressive sophomore EP, 'Your Weapons, Your Words', dropped on my desk, resulting in me describing it as "a beautifully crafted slice of musical art, presenting a unified diversity of sound that shows a hugely confident level of ability on the part of its creators". Since then, outside of their short-lived entry into this year's M2TM, we had unfortunately missed a couple of opportunities to catch them live to see if they could deliver on that promise, so we both were pleased to be making up for lost time this evening.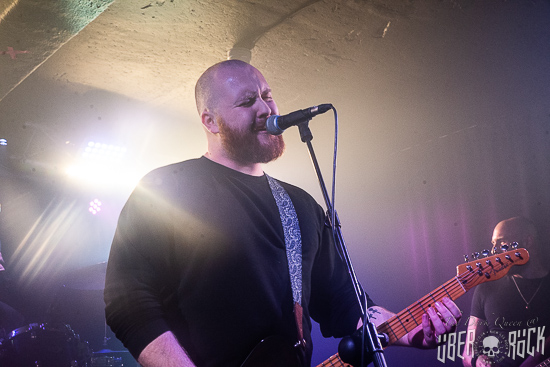 Like our headliners, ForeignWolf may be a new name but they are made up of some battle-hardened veterans of the local scene, and this shows right from the off, as they bomb right in with the sort of riff that would have the likes of Biffy Clyro asking why they didn't lay it down, blending hard ass metal with power pop sensibilities plugged into one shitfuck of a power grid. Think Foo Fighters jamming with Muse, with Soundgarden crashing the audio party and throw in a side order of don't give a fuck attitude and you're roughly in the ball park of their blend of heavy '90s style nu-metal riffs and '80s evoking vocals.
It's tight and visceral and highly impressive. Definitely well worth the prolonged wait.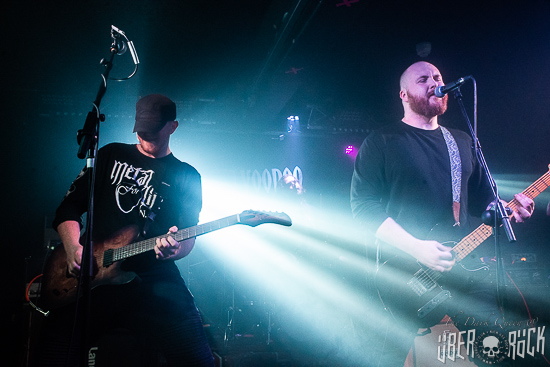 Haint are another band of local scene veterans from various now defunct outfits, to whom we were also introduced via that aborted 2020 M2TM, when they absolutely stormed their way to victory in the first round. Little did we know that it would be two whole years before they would be able to repeat that feat, this time absolutely decimating everyone in sight as they unequivocally triumphed in the revived 2022 competition.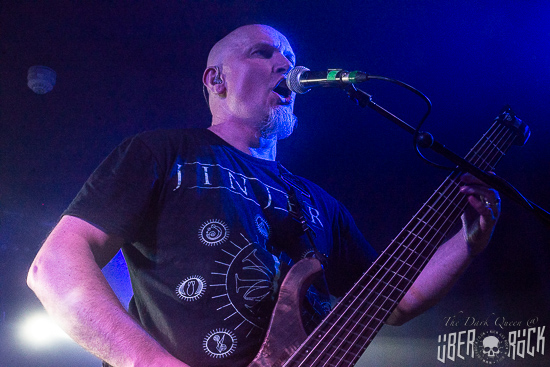 The fact that they are selling branded wooden spoons on their merch stall signals their intent to stir things up – and that is what they do, with their twin vocal harmonies cascading over dense, driving post-hardcore rhythms and dissonant echoing crescendoes of post-punk noisesomeness. It's not hard to tell that these three guys have been around the block a few times, 'cos they're tighter than the rivets on a nuclear submarine.
Their use of twin vocals is a sublime touch; it has been a long time since I have seen a band deliver such an effect in such a synchronized manner – for the most part remarkably restrained, but uncompromisingly in your face when they need to be. The result, combined with the intensity of the riffage behind them, is dense and hypnotic: you can't take your eyes off the stage (despite the lack of physical movement) or draw your ears from the sound, and their intense and tightly bound finale firmly echoes the feel of their set as a whole.
Bloodstockers, you need to stand up and pay attention to this lot when they pummel their way into Catton Park in a few weeks' time… and, if you don't, then they'll force you to do so. You have been warned \m/
Haint play the New Blood Stage at Bloodstock on Friday 12 August.
PHOTO CREDIT: All photos © The Dark Queen/Über Rock. You can view our full gallery of photographs HERE.
All content © Über Rock. Not to be reproduced in part or in whole without the express written permission of Über Rock.