By Monk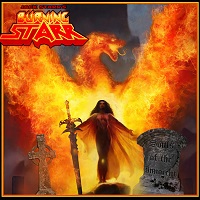 For the past four decades or so, Jack Starr has been one of the leading lights (sic) of what can perhaps best be described as the ÜS traditional heavy metal scene, first as the six-string shredder with the much-maligned and under-rated Virgin Steele and more latterly with his own Burning Starr project, which has just produced this, the tenth album and the first with new vocalist Alexx Panza (they seem to have a thing for double consonants in their names, these boys).
It has to be said that 'Souls…', like most of not only Starr's output but that of most bands working within this mien, doesn't stray too far from the traditional heavy metal pathway which it faithfully follows with the dedication of a suburbanite who only uses their car for trips to the supermarket and back. Having said that, Starr makes the trip in a Porsche rather than a Sköda, as he delivers tarmac-shredding blistering solo after blistering solo.
The song titles alone should tell you almost everything you need to know about the album: 'Demons Behind Me', 'I Am The Sinner', 'Winds Of War', 'The Wrath Of Attila', 'The Road To Hell', 'When Evil Calls'. They all evoke imagery of old-school heavy metal, with no messing about and none of the psychobabble that pervades much of the genre in its modern mode. And, yes, that is exactly what you get – and, hey, it works. There is plenty of room left in this cluttered world for old school, unpretentiously OTT battle metal, where guitarists slay dragons with a fiery riff and singers exalt their feats… and that is exactly what Burning Starr do. Long may the light of such achievements shine brightly in our lives.
'Souls Of The Innocent' is out now. You can get your copy HERE.
www.facebook.com/jackstarrofficialpage
All content © Über Rock. Not to be reproduced in part or in whole without the express written permission of Über Rock.