By Monk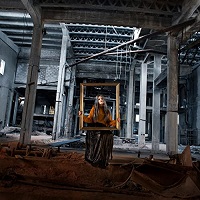 Finland is on record as having more heavy metal bands per head of population than any other country in the Überverse – and if they keep on producing them at the rate they have been doing then virtually every Finn between school and retirement ages will be churning out riffs with the sort of gay abandon that would make Errol Flynn blush with envy. The latest export from the easternmost side of the Scandinavian peninsula are these self-styled cinematic progressive metallers, centred around the creative force of bassist and composer Pekka Virtanen and now departed vocalist Veera Hänninen.
In the true tradition of the furrow which it blatantly and unapologetically ploughs, 'Introspection' combines all the elements you would expect: huge, synthesized atmospherics building dramatic aural scenarios which are in turn overtopped by massive, crushing riffs, offset by beautiful, soaring vocals to build layers of sonic experience. With cello, flute and the traditional Finnish erhu thrown into the instrumental mix, there are also heavy folk references blended into the overall gothic power metal feel of this impressive debut.
Despite having only five tracks, 'Introspection' is a suitably epic, and epic-sounding album. For a young band, it is highly ambitious, but beautifully realized in a way that suitably reflects that ambition, which is delivered with aplomb and confidence on the part of everyone concerned. The instrumental passages layer over one another, but never confuse or confound each other in the way so many creations in this niche genre do. Penultimate track 'Programmed' stands out as an exemplar, possessed as it is of a dark, broiling undercurrent but one combined with a massive, joyous orchestration and sense of optimism that belies its pessimistic message.
The tracks are also brilliantly paced, with the impact of a symphony in terms of its movements through levels of pathos and drama, power and restraint. A lot of work has very obviously gone into making this debut offering the best it can be, and that effort has most definitely been rewarded with one of the best gothic rock albums you will hear this year.
'Introspection' is out now. You can get your copy HERE.
All content © Über Rock. Not to be reproduced in part or in whole without the express written permission of Über Rock.