Introduced by Monk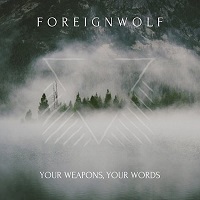 Like so many hundreds, nay thousands, of bands the Überverse over, Belfast upstarts ForeignWolf found themselves faced with a barrier as tall as the Great North Wall when the Covid pan(dem)ic hit last March. They had released their first EP and were starting to build momentum on the live front, with a handful of gigs under their belts, a slot in the regional Bloodstock Metal 2 The Masses competition and a ÜK tour in the pipeline.
However, like so many of their contemporaries, the four lads didn't spend too long bemoaning their ill-fortune or crying into their homebrew, but rather set about making the best of bad job, resulting in the release, earlier this month, of their second EP, which is what really served to bring them to the attention of us here at ÜRHQ… having been extremely impressed with said four-track offering, describing it as "a beautifully crafted slice of musical art, presenting a unified diversity of sound that shows a hugely confident level of ability on the part of its creators". So, by way of a follow up, I decided to catch up with an old acquaintance, in the form of guitarist Dave Brady, to find out a bit more about the band and when makes them tick…
First of all, as this feature is called 'Über Rock Introduces…', I asked him start off by telling us who is in the band. As I mentioned in my review, I know two of them (Dave and Mick) from other bands but wondered how the guys had come together?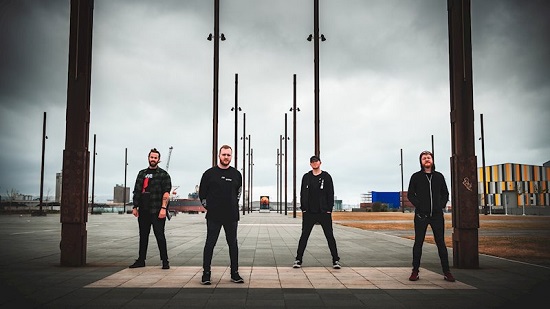 So, besides me (of course), we have Gerard McCann on vocals and guitar, Justin Lee Jamison on bass and Mick Teague on drums. Me and Gerard had been in a previous band together, but after it went its separate ways, we decided to keep writing with the intention of putting something new together. Jay came down a few times to our rehearsal space and got on board pretty much right away. We had sent out demos to a few drummers, but Mick was just the best of the best. We all fit in so well together.
Personally, as a historian, I have an interest in etymology, so I feel have to ask about where the band name came from and if it has any special significance…
To a certain extent the name ForeignWolf does have somewhat of a meaning to us. We had played around with a few names, but it seemed to be the one that stuck out. Not to dwell on the cliché wolf pack idea, but we all essentially came from different backgrounds musically and as a result were "foreign" to each other. You combine that with the lone wolf scenario and that's how we got there: four lone wolves coming together to form a new pack… seriously, how clichéd can we get?
What impressed me with the EP is the different styles which you amalgamate, from alt-rock to grunge, etc. What are your collective and individual influences as musicians and how have you pulled these together into your own style of music?
Honestly, if you had said to me at the time do you want to start a band with a singer who loves and worships Green Day, a bass player who listens to something called "clowncore", a straight up metal head drummer, and me, who listens to everything from Slipknot to Glen Hansard and everything in between, I would have thought you were nuts, but for some reason we can make it all come together and work. Just goes to show that it's not a bad thing to have diversity.
'Your Weapons, Your Words' is your second EP. How do you think your sound has progressed from your debut?
Our first EP came from songs that Gerard and I had written together after our last band, Car Chase City, had split. It started to bridge that gap between what we were and where we wanted to get to musically. With 'Your Weapons, Your Words' we really have come into our own and I feel we have set the standard for what's to come. It's a much bigger, emotional sound that we all had an input creating, and we all are very proud of the final product.
Can you give us a bit of an insight into the EP? Are there any particular issues/subjects/themes you are addressing in the songs? I know, for example, that mental wellbeing is an important issue for all of you…
We really focused on our own life experiences for this EP. Each song has its own unique story to tell about us as a band, and as individuals. You start with Alone', talking about terrible one sided broken relationships, 'Afterthought' delves deeply into our past and present dealings with depression, anxiety and mental health, 'No Limit' goes into addiction and the rabbit hole that you can fall into if you cross the line, and 'Gradual Destruction' is final straw when all of the above are combined together.
Obviously, it's been an extremely difficult period over the past 14 months or so, especially for bands, as they've been unable to get together to do basic things like jam, rehearse, write together… how difficult was it for you to produce the EP against the backdrop of such limitations, etc?
We took every opportunity we had to be as productive as possible. Any ideas any of us had were sent through to the band and worked on at home. When we finally got into the studio, we pieced everything together and used the time to progress any ideas whilst we were together as a full band. Working with Josh at JSR Audio, he is like a fifth member, not only producing the music but he really helped gel everything together.
If a challenge comes along, it is up to everyone to overcome it as best they can, and we feel like we have been successful in doing so.
A very obvious challenge posed by the pandemic, and the restrictions of lockdowns, etc., has been the inability of bands to perform live (especially here in Northern Ireland, where we still have no idea as to when live music will be allowed to return). Has this forced you to change your approach on how you interact with your fanbase? For example, has social media become more important?
These days, the music industry is progressing so fast in new directions that all you can do is hope to keep up. Not being to play live gave us an opportunity to really get a handle on new ways to expand our audience and get an insight into just how important social media is for a new upcoming band. No matter how much people want the idea of being in a band to be like how it was in the old days, we have found social media is the way forward.
We formed in 2019, and in two years have built up an audience that I would never have expected, just through social media and streaming. Touring when allowed is only going to advance this further and we cannot wait to get back out playing.
A lot of bands – although, admittedly, very few (if any) from here in Northern Ireland – have gone down the live stream route? Is this something you considered?
This was something that we had planned for the release day of the EP, however I threw a spanner in the works by breaking my thumb. Having only played four shows locally, very few people have seen us play live. And whilst all the social media coverage in the world can spread the news of your music, sometimes you just can't beat seeing a band perform live. So, there is more to come with regards live streaming.
Let's look to the future, especially as it now seems there is some light at the end of the tunnel… can we assume that you're looking at lining up some live gigs for the summer and beyond?
We actually had a tour planned off the back of the EP release as well. We are in the process of rescheduling this, but it will include dates across Ireland and the UK. It is great to see the local promoters starting to advertise concerts for the rest of the year though. I know one local
promoter has not rested trying to get everything back up and running, and he has constantly stayed in contact with bands, keeping them informed and up to date, which has been fantastic. Without people like that, the live scene wouldn't stand a chance against the shenanigans on the hill. (Editorial Note: Dave is referring to the Northern Ireland Executive at Stormont.)
As you intimated, you did have some UK dates pencilled in, but obviously they fell by the wayside… with the Irish Sea being one of the most expensive stretches of water in the world, how difficult do you feel it is for bands from this side to break into the GB market, especially in terms of making it worth their while to go over there and play?
Like I said earlier, bands are going to meet these kinds of challenges at every twist and turn. Sometimes you just have to take the chance and go and learn from that experience. If you don't, you will never know what you are missing. I am constantly talking to every promoter I can get in touch with, asking for dates.
I recently watched the Dave Grohl documentary about touring in a van, and the doors that it can open for you if you just go and do it. It can seem scary and leave you broke but isn't the music and adventure worth it.
Talking of live shows, if you were able to put together a "dream show", with two/three other acts, either locally or from further afield (or even big name bands), who would it be, and why?
As a band we have always dreamed of the idea that someday it would be great to be on a bill with the likes of Thrice or Alexisonfire. Locally, there are too many bands to choose from, and I mean that in the best way possible… I have played alongside some of Northern Irelands best musicians and consider it a pleasure to be on any bill.
On similar theme: imagine you're headlining Belfast's SSE Arena… what are the most extravagant/ridiculous things you would put on your rider?
Well Mick's a vegan, Gerard is always on a health kick, Justin isn't allowed to eat in the band room, as he tends to favour foods that don't do well in close proximity to others, and I'm a caffeine addict so as boring as it sounds just give us coffee and lots of it… the stronger the better.
OK, now a bit of fun to fish off with, and a couple of quickfire "out there" questions to give us a wee bit of an insight into your personalities…
Buckfast or Red Bull? Red Bull, Red Bull, Red Bull
Mint choc chip or Pooh Bear ice cream? Pooh Bear
Red or brown sauce on bacon sarnies? Brown or red, we don't care, bacon is the best (except for Mick, he only eats "fakeon")
Curry chips or gravy? Curry
Salted or sweet popcorn? Sweet… what monster eats salted popcorn?
After a night on the jizzy juice: pizza or kebab? Put them two things together…
Pineapple on pizza? I have lost friends over this question… pineapple is delicious as it is BUT keep it 1,000 feet away from my pizza!
'Your Weapons, Your Words' is out now. You can get your copy HERE.
www.facebook.com/ForeignWolfni
All content © Über Rock. Not to be reproduced in part or in whole without the express written permission of Über Rock.