By Monk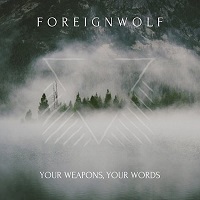 ForeignWolf are another of those bands who cross our radar on a regular basis – a relatively new name (as evinced by the fact that this is only their second EP and they had only a handful of gigs under their belts before the pandemic stymied any further attempts to cut their teeth live) but one that comes with a plethora of experience in terms of its collective and individual membership, with their line-up involving members from various outfits who have featured on these pages in the past, including (the now defunct) Altus and punk soul rebels Paper Tigers.
And this level of experience certainly shines through, not least in the levels of confidence and maturity revealed in the grooves of this four-track appetizer from these four Belfast bais, who plough a musical furrow that lies somewhere between the heavy grunge-pop of classic Soundgarden, the dense groove of Alice in Chains, the reflective alt-rock musings of Deftones and, heavens forfend, the arena-rock sensibilities of Alter Bridge or, more especially, Biffy Clyro.
Kicking off with frenetic, metalcore-edged acidity of lead single 'Alone', 'Your Weapons…' (which takes its title from the surprisingly gentle vocal section in the track's mid-section) presents us with four different sounding, but musically and thematically linked songs, each with their own identity but also possessing a commonality which gives the EP a natural flow, with the diverse sounds presented in such a way that is cohesive and cogently constructed.
Latest single, 'No Limit', is a case in point as to how the seemingly contrasting soundscapes interconnect and intermingle, its morose opening section perfectly counterpointing both the aggression of the precursor track ('Afterthought') and the following combination of staccato riffs, broiling atmospherics and Gerard McCann's fiery, angst-ridden vocal performance, which spits itself out of the speakers like an uncoiling asp with the smell of a bleeding mouse in its nostrils. If the Biffy boys were to release something like this, it definitely – and defiantly – would be the top of every radio station playlist in the Überverse (and beyond).
As if you haven't got the message already, 'Your Weapons, Your Words' is a beautifully crafted slice of musical art, presenting a unified diversity of sound that shows a hugely confident level of ability on the part of its creators.
'Your Weapons, Your Words' is released on Friday (14 May). You will then be able to get your copy HERE.
www.facebook.com/ForeignWolfni
All content © Über Rock. Not to be reproduced in part or in whole without the express written permission of Über Rock.