Introduced by Monk
Leeds alt-rock trio Kath And The Kicks have just declared that they are very much alive and, erm, kicking (sorry, NOT!) with the release, just yesterday, of their fourth single. So, we reckoned it might be a good time to catch up with the band and get under their skin, to find out what makes them tick, the inevitable subject of making music under the strictures of lockdown – and the ever vexed subject of whether or not you should put pineapple on a pizza…
First of all, as this feature is called 'Über Rock Introduces…' I asked them to start at the beginning, by telling us who is in the band and how they come together to make such sweet rock 'n' roll music…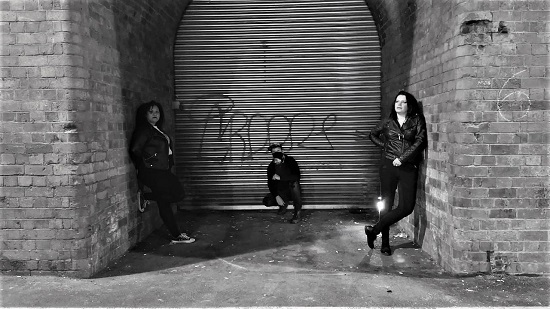 Shaneen: We have Kath Edmonds on lead vocals and guitar. She is also the main songwriter and lyricist. We have me, Shaneen Mooney, on bass and backing vocals and Matt Larkin on drums. We came together following a coincidental sequence of events. Kath was on the lookout for a new drummer and bassist. She reached out to me over Messenger to see if I knew anyone who would be interested in being involved. I'd known Kath for years after playing on the local music scene together, but what Kath didn't know when she reached out to me was that I had recently left a band and was open to joining a new project. It seemed like fate to me at the time and we agreed to get together for a jam. Kath then found Matt through a mutual friend, then we all met up for a practice. From that first meeting together the chemistry between us was fire, and we've been playing together as a group ever since.
Personally, as a historian, I have an interest in etymology, so I usually ask about the origin of a band's name. Obviously, the Kath bit is self-explanatory – but why is the band referred to as 'The Kicks'?
Matt: If you try to imagine the excitement and anticipation of a World Cup final at Wembley, the very moment just before the 'Kick' off. This is what we create every time we play, we 'kick' things into a powerful sonic universe. I get goosebumps just thinking about it.
What are your collective and individual influences as musicians and how have you pulled these together into your own style of music?
Shaneen: "I think we all connect through our love of alternative rock music, but individually I would say our styles are diverse. Kath is a lover of alternative punk, rock and blues. I am a lover of grunge, stoner rock and alternative metal, and I think Matt has a love of heavy and alternative metal. How it works collectively is that our focus is to get as much as we can into whatever song we are working on. We try not to limit ourselves to a genre and play whatever is creatively apparent at the time.
This is your fourth single. How do you think your sound has progressed over the course of your releases to date?
Matt: I don't think we plan or hold expectations about our sound as a progression, we jam; usually getting heavier and heavier. As we get through the song, Kath brings a magic touch of fairy dust and boom, another banger in the bag. I think each of the singles has a unique feel, very much representing the feelings we had at the time of release. I personally aim for something that feels good to play: if it feels good and we like it, the world is beautiful.
Obviously, it's been an extremely difficult period over the past 14 months or so, especially for bands, as they've been unable to get together to do basic things like jam, rehearse, write together… how difficult was it for you to write and record this single against the backdrop of such limitations, etc?
Matt: Back in the day, when we only wore masks for kinky sex games (leave you guessing who, how and why), we used to jam. We would get on a riff or groove, all pushing bits together, so we have loads of ideas and bits of songs floating around. But at times, Kath will just send us the fully structured bones of a song, almost like a flash of inspiration; then it's like, Matt, Shaneen, do what you will and we 'kick' our bits in!
And were there any other changes you had to make to the way you had worked together previously?
Shaneen: Well, we had to stop rehearsals altogether, which has been challenging. We are a band who feed on each other's energy in the room, so not being able to get together has been tough. We've made it work as best as we can and have adapted to create online performances filmed and recorded remotely and then edited together. We've connected through Zoom, Messenger and emails. We've managed to get together for a rehearsal and recording a video when the restrictions relaxed in September, but now we're patiently waiting until we can get together again in person at the end of this month.
A very obvious challenge posed by the pandemic, and the restrictions of lockdowns, etc., has been the inability of bands to perform live. Has this forced you to change your approach on how you interact with your fanbase? For example, has social media become more important? And, if so, what channels have you found most effective?
Kath: Social media is a great tool for sharing what's happening and reaching your audience. We've always embraced as much as we can the various social channels, the most effective for us are FB, Twitter and Instagram. It's great, as we get people sending us direct messages which is fantastic, it's nice to know people feel they can speak to us direct. That is very important to us, especially as we move forward, we want to be available to fans.
A lot of bands have gone down the live stream route during the pandemic. I know you did a "lockdown session" last April, but was this something you considered doing more of?
Kath: Yes, in fact we're in talks with a venue in Bradford about how we can do this. One of the good things about the live streams is that anyone can connect anywhere so your music can have a much wider reach. There are options of live streaming gigs with people there in person as well which just makes the whole experience much more inclusive for those who love live music but can't get to the gig!
Let's look to a brighter future, especially as it now seems there is some light at the end of the tunnel… As we mentioned, this is your fourth single, so are there plans for a full-length album?
Matt: We could go into the studio tomorrow and put an album out, we have lots of songs ready to go, some we already have demos for. We all work really hard, both at music and in our professional careers, any album from us would need to represent quality and class that the band and songs deserve. We are holding out for the right label to help us on our journey, the Kath and the Kicks album needs the right platform; pass me the Grammy, see you all in a field full of dreams, and people!
And can we assume that you're looking at lining up some live gigs for the summer and beyond?
Kath: Absolutely. The stage is the place where it all comes together and what it's all about. The announced gigs so far are a hometown gig at The Fenton, Leeds, on 21 August, and the Wentworth Festival (New Music Stage) on 18 September. More gigs to follow and some VERY exciting discussions are going on at the moment. The first live show back after all this time is going to be explosive."
Talking of live shows, if you were able to put together a "dream show", with two/three other acts, either locally or from further afield (or even big-name bands), who would it be, and why?
Kath: A dream show would need bands that perform like us, or vice versa. Tons of attitude, very loud, raw and aggressive. Get us on a bill with Skunk Anansie, Deap Vally and IDLES. That would be a proper 'in yer face' gig that you really wouldn't wanna miss.
On similar theme: imagine you're headlining the First DirectArena… what are the most extravagant/ridiculous things you would put on your rider?
Shaneen: Haha! OK. I have to answer this one. I would have to start by asking for lots of booze! Of course. We love to get together after gigs and have a drink and party together. I would also have to request lots of vegan-friendly food for myself. A hot tub to wind down and relax before the gig. It also helps to keep the fingers warm. Makeup artists, stylists, and someone to read relaxing stories to us to help with pre-gig nerves. Like Morgan Freeman. I would ask for Morgan Freeman to be there.
OK, now a bit of fun, and a couple of quickfire "out there" questions to give us a wee bit of an insight into your personalities:
– Buckfast or Red Bull? Matt: Red Bull
– Ben And Jerrys or Hagen Daz? Shaneen: Ben and Jerrys – only because they have an awesome dairy-free range
– Red or brown sauce on bacon sarnies? Kath: Ketchup 
– Curry chips or gravy? Matt: Curry
– Salted or sweet popcorn? Kath: 50/50!
– After a night on the jizzy juice: pizza or kebab? Matt: Kebab
– Pineapple on pizza? Shaneen: Yes!
Kath And The Kicks' new single, 'I'm Alive', is out now. You can get your copy HERE.
www.facebook.com/kathandthekicks
All content © Über Rock. Not to be reproduced in part or in whole without the express written permission of Über Rock.