By Monk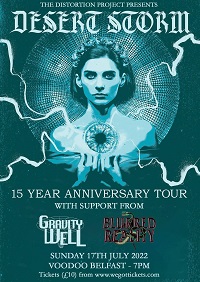 So, here we were again – well, at least one half of the ÜRHQ team – back at our favourite city centre venue for the second time in as many nights. Yes, this time I'm flying solo as I join the small band of hardy souls here gathered to help Oxford sludge groovers Desert Storm celebrate their 15th anniversary with a long-awaited and overdue return to this wee corner of the Überverse.
Openers Blurred Reality are another band I first came across via the showcase that is the annual Metal 2 The Masses competition. Despite being something of last minute stand ins, as a member of original support act Elder Druid suffered an injury just a few days before the gig, they power straight in with their brand of NOLA-meets-NWoBHM sonic infusion. Hell, they even throw in a drum solo in the first number!
They work hard to get the small crowd going, thrashing it up in the mid-section of the set, but unfortunately get an untypically unenthusiastic response for a performance that is far from that, and shows they are not afraid to shake the stylistic mixer, with a more alt-grunge feel to the finale.
Bumped up from openers to main support, Gravity Well, whom we first encountered toward the tail end of 2019, provide a total contrast in tone, with their deep, grunting doom riffs overladen by freaky, ethereal vocals and supported by avant-garde keyboard stabbings. It's a brave step for the quintet to include an instrumental as their second track, even though it does feature both live and sampled vocal elements, but it somehow, mysteriously works in helping to set the tone for the rest of their brief set which in turn is packed with psych-infused doom with dense grooves and hypnotic rhythms. In other words, the perfect appetizer for what is to come.
For some strange reason – maybe its the time of year (Norn Iron's "Twelfth fortnight", when the entire country apparently comes to a grinding halt) – this is one of the most poorly attended shows I have seen in Voodoo since the lifting of Covid restrictions. So it is that there are only around a dozen people scattered around the room when Desert Storm take to the stage. Nevertheless, this does not deter the Oxford quartet, as they immediately proceed to lay it down, with an emphasis on dense, crushing grooves coupled with a massively heavy bottom end and subtle proggy interjections, the gruff vocals counterpointing the cascading riffs to superb effect.
Thankfully the room fills up as the set progresses and Desert Storm set about the task in hand, which is laying down some seriously heavy riffage, with the emphasis on HEAVY and RIFFage, sludgier than the nearby River Lagan. In fact, if you could bottle the sleech on which which Belfast is built and somehow transform into an audio experience, it probably would sound something like this…
The result is an enthralling performance which draws its witnesses, unapologetically, unashamedly and uncompromisingly into its darkest depths, as the band not only celebrate their history but also look to a renewed PC (that's Post-Covid) future by peppering the set with new songs, the highlight of which is the prowling and predatory 'Stranger Of None' (at least that's what I think it's called: having to head straight to work as soon as the last note died in the speakers meant I couldn't hang around to find out).
Here's to another 15 years lads \m/
Desert Storm play the Sophie Lancaster Stage at Bloodstock on Sunday 14 August.
All content © Über Rock. Not to be reproduced in part or in whole without the express written permission of Über Rock.