By DJ Monk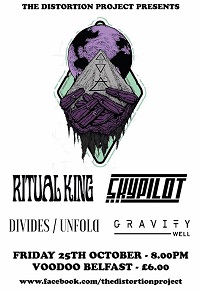 The nights are getting colder and darker, but there is still one constant, no matter the season or the weather outside – and that's you're virtually guaranteed some pretty damn hot heavy metal action any time you step off the street and up the stairs into one of ÜR's favourite venues in this or any other corner of the Überverse.
Openers Gravity Well are new to me – which is hardly surprising, given that this turns out to be only their second ever gig. Despite this lack of experience in this particular guise, the members have experience in other local bands, and this is obvious from the outside as they deliver a very confident set of dense, driving, atmospheric doom with a heavy psychedelic edge. Big fuzzed out riffs overtop Sabbathian bass lines, which in turn are coupled with the suitably laconic, taut drum patterns, which emphasize the overall impact. Upfront, Cat is a great vocalist, with a good stage presence and a terrific range, which perfectly matches both the atmospherics and the dense groove of the music. An impressive first encounter from my point of view: it definitely won't be my last.
There's a change of mood next, as Divides Unfold deliver their hard-edged, groove-filled alt-rock with panache, aplomb and accuracy. Once again, Mark Penney is a convincing frontman, and the music is taut and infectious, with plenty of light and shade in the balance between heaviness and melody. Their sound is much bigger than this intimate back street venue, drawing comparisons with the likes of Alter Bridge and more especially Mark Tremonti's solo material. At the end of their set, it's definitely as case of job well done, and you really can't ask for much more than that, can you? Thought not.
Unfortunately, the crowd seems to have thinned out a bit as veterans Skypilot kick off their set, but that doesn't deter them from delivering another typically brusque and loud performance, packed to the room's rafters with enough heft to batter a legion of world heavyweight champions into unforgiving submission. Their sound is characterized by big riffs and dynamic rhythms, coupled with catchy melodies and Dave's acerbic vocals. They certainly have plenty of grunt applied to their groove as they deliver a set drawn from both their current album, the ÜR-approved 'The Affront', as well as their two decade-long back catalogue. Once again, job done, and very effectively.
Tonight was the first in a trio of Irish shows by Manchester stoner crew Ritual King, which would culminate in them headlining the Samhain edition of the bi-annual Siege Of Limerick. However, this was no mere stopover gig, but a clear statement of intent from the trio. And that intent? Well, it was to deliver big, broiling soundscapes via dank, doomy rhythms coupled with a classic rock sensibility with massive psychedelic undertones and elements of jazz and funk, especially in Dan Godwin's deceptively intricate bass lines, which also deliver truckloads of thump and grunt. Their thick bottom-ended sound is topped with fuzzed-out riffs and inspirational vocals from Jordan Leppitt, who has an easy manner about him as he interacts easily with the crowd, who in turn respond with energy and enthusiasm. The overall result is energetic and fresh despite it's darkness. Another tight set to round off a night of high-quality metal action of the slightly groovier style.
All content © Über Rock. Not to be reproduced in part or in whole without the express written permission of Über Rock.