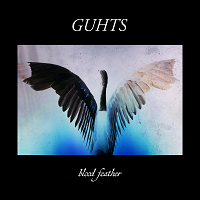 Lockdown has spawned a hell of a lot of things. From new music to new bands, be that side projects or entirely new acts, which is exactly how GUHTS have come about, with guitarist Scott Prater and his wife Amber – both of Witchkiss – teaming up with two members of Bask and Black Mountain Hunger to form this new post-metal hybrid. They came to my attention while writing last week's Singles Club feature, leading me to delve deeper into their debut EP…
It's a pretty impressive EP, at that. Amber's vocals come across as a mixture of almost shamanistic like shrieks and a scornful sound you could attribute to the likes of Stevie Nicks in 'Gold Dust Woman', though on a much heavier scale. Had Stevie and Ozzy had a daughter together, I could well imagine her vocals to carry the same passion and ability as Amber. Each part musically fits seamlessly too, adding to each other and creating an overall feeling of envelopment, being drawn into something whether you want to be or not.
I described the single 'Eyes Open' as fear-inducing and a disturbing yet rewarding dissonance and that about sums up the entire EP for me. There are definite doom elements in amongst the post-metal and, in 'Handless Maiden', almost an industrial feel, too, bringing far more depth than I would expect to a debut EP, especially one that was initially written for Scott's other band. 'The Mirror' shows more of Amber's vocal range and actual ability than the more shrieked approach of the other songs, sitting well among a more melodic musical backing, while 'The Forest' – the longest track on the album – mixes the softer approach into something heavier, building a cacophonous wave in a perfect post-metal storm.
I read in the PR blurb that their aim was to create something much more along the lines of Cult of Luna and Deftones. I don't think they hit the Deftones part, but that is perfectly OK – they have created something I can genuinely see myself enjoying on repeat for a while. They fuse many different elements, both electronic (the drums are actually sampled) and not, into their sound and have fashioned something that doesn't just sit pigeonholed in the process. I, for one, am absolutely here for this and cannot wait for them to work on their debut full length which is mooted for next year. Uneasy listening for a more discerning ear.
'blood feather' is released on 6 August. You can get your copy HERE.
All content © Über Rock. Not to be reproduced in part or in whole without the express written permission of Über Rock.