By Jonny Bakes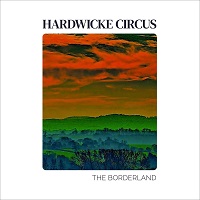 As the resident Cumbrian (by location, not birth, I'm afraid!) at ÜRHQ, I tend to be the first port of call for bands hailing from the remote Northern bastion. Today is one of those days, and I find myself whisked off to our county town of Carlisle to check out the debut full-length album from Hardwicke Circus. These guys are certainly not clowning around though as they have been building up some serious buzz with their energetic live shows, so it's about time I check them out and see what they have to offer.
With a handful of EPs under their belt since their inception in the mid-2010s, Hardwicke Circus are renowned for throwback sound and energetic live performances which has gained the attention of publications like The Sunday Times. But for me, my first introduction to these guys is through the very aptly named debut 'The Borderland' where I get to find out what has got the big rags all a-fluster and make my own decision on whether the hype surrounding Hardwicke Circus is well-deserved or not…
The first thing that stands out about this album is that it has a delightfully retro and upbeat overall style that makes it a great accompaniment for the unusual sunny weather we've been having. It's a bit like being thrown back into the 70s with a vibe that invokes the spirit of many of the greats, in particular there's heavy influences from the E Street Band, Mick Jagger, The Doors and Tom Petty that mix together into this familiar-feeling stew of musical goodness. While the music may feel old and familiar, the lyrics remain modern and closely linked to current affairs with mentions of Lockdowns and Tyson Fury among other things. There's liberal use of both synth and saxophone to really enrich the sound which helps to really bring home that retro feel and adds the upbeat nature of the majority of the tracks.
'No Surrender' was the first track that jumped out to me on my first play-through of 'The Borderlands'. As soon as it started I thought I was listening to the great Tom Petty but was quickly reminded that I wasn't when Jonny Foster's distinctive Jagger-esque vocals dropped in. Regardless, the musical structure of this track feels very similar to 'I Won't Back Down' with quiet verses accompanied by an emphatic and catchy chorus. Even though I listened through the album a good few times, it was always 'No Surrender' that I found myself coming back to and I think that this is the perfect song to pick if you want to try dipping your toes into Hardwicke Circus before taking the full plunge.
Overall 'The Borderlands' has been a great example of the phrase "if it ain't broke, don't fix it'. Hardwicke Circus skilfully brings together influences that'll be familiar to fans across generations and combine them into a sound that's as distinct as it is familiar. Certainly, something to attract fans of Bruce Springsteen, The Doors, The Rolling Stones and many more of those classic bands that still attract new fans to this day. The guitar work is clean and crisp and the rhythms are simple yet groovy but with plenty going on to entertain most discerning fans. 'The Borderlands' could well become one of your summer anthem albums, but the only way to find out for sure is to give it a go!
'The Borderlands' is released on Friday (23 July). You can get your copy HERE.
www.facebook.com/hardwickecircus
All content © Über Rock. Not to be reproduced in part or in whole without the express written permission of Über Rock.