By Monk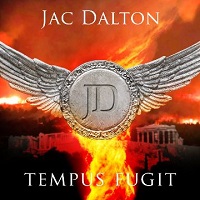 I first came across shaggy-haired Australian doctor-by-day rock-singer-by-night Jac Dalton when he he and his band made their live debut in the Über Kingdom of Rock 'n' Roll (indeed, their first gig outside their native Oz) on the main stage at the sixth instalment of the annual HRH AOR festival, back in the days when the franchise was encamped in north Wales. I was immediately impressed by not only the band's musicianship but the singer's affability and ease with what he was doing – something that is reflected on this equally comfortable, career-spanning retrospective collection, the title of which apparently was chosen by Dalton's ÜK representative, to reflect how time has flown during their eight-year working relationship.
For anyone not familiar with Dalton, and looking for a quick musical reference, imagine him lying somewhere midway between countrymen Jimmy Barnes and John Farnham: not quite as gritty as the former, and without the high-pitched parpiness of the latter (although, he can hit the high notes, and very effectively so), but striking a very neat balance between both ends of that mid-range vocal spectrum. Similarly, there are also heavy references to the likes of Tom Petty ('Good Bad Girl') and the heavier aspects of the likes of Hall And Oates, not that this latter comparator is meant in any derogatory manner, as those guys wrote some damn decent rock tunes before they sold out to the MTV generators, as well as anthemic southern rock ('One Heart, One Land').
'Tempus Fugit' is one of those albums that serves as a great introduction to an artist with whom you may not have been previously familiar, especially as much of this material previously has not been available outside Australia. It more than adequately encompasses the breadth of sounds which he and his band themselves have embraced throughout their career, from power ballads to hard rockin' powderkegs (sic), all delivered with a degree of consistency which does not see one mien bouncing off each other but rather amalgamating into one another with alacrity and a sense of camaraderie. If you love great singers, then I wholeheartedly recommend you check out this darn fine collection.
'Tempus Fugit' is released at the end of the month. You can get your copy HERE.
www.facebook.com/JacDaltonBand
All content © Über Rock. Not to be reproduced in part or in whole without the express written permission of Über Rock.