By Monk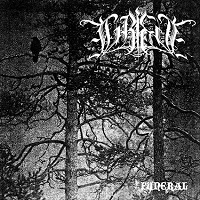 Despite having only formed in 2020, Finnish black metallers Grieve are proving the transcience of every aspect of life, by the fact that, despite this being their debut full-length album – they've previously released a self-titled EP – the combination of scene veterans V-Khaoz and Werwolf have decided to call it a day after this premiere opus and leave us with a short-lived but nevertheless obsidian legacy.
Grieve's 'Funeral' march is seven slices of raw, visceral, punk-fuelled BM drawn straight from the vaults of the genre, built on the traditional combination of furious blastbeats and winding guitar riffs topped off by acerbic throat-shredding vocals, coupled with a production colder and darker than a Finnish winter. It is imbued with the vintage spirit of BM's genesis, focussing purely on the dankness of the overall sound, but without sacrificing the need to make it sound relevant in the modern era.
In a time when so many of us our looking over our shoulders to past glories, Grieve remind us that some of our best memories lie in the darkest, most depraved and degenerate corners of our blackened souls.
Toll the 'Funeral' bell and do not grieve for Grieve, as their legacy will burn darkly.
'Funeral' is released on Friday (14 January).
www.facebook.com/thetruegrieve
All content © Über Rock. Not to be reproduced in part or in whole without the express written permission of Über Rock.