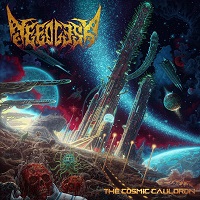 Hungarian death metal band Needless was founded back in 2004 and over the years evolved into what would be an active musical group as of 2014. With a terrific blend of melodic thrash and death metal, the band fits into the melodic death metal genre along the lines of bands such as Children of Bodom and Dark Tranquility but adds a splash of black metal and elements of progressive metal as well.  Their first release, 'The Dark Spirit of Ages', was well received by both critics and music fans alike and in 2021, the band signed with Uprising! Records.
For their second album, Needless has taken on the daunting task of delivering a full-blown concept album and the result is something pretty spectacular.   'The Cosmic Cauldron' features ten songs with a science fiction theme centering around the story of an astronaut who brings an unbearable gift from beyond our universe in the form of a relic or maybe godly being known as The Cosmic Cauldron.  Produced at No Silence Studios in Hungary with Istvan Simon handling production duties as well as mixing and mastering, the record has a cohesive feel to it, yet each track can stand on its own.
The story begins with 'Warvoid A.D.' as a recording of a panic-stricken voice is heard requesting backup due to a heavy attack by enemy forces before the guitar attack of Tamás Bárány and Fogl Botond take over.  Technically, the musicianship on the record is outstanding with the rhythm section of drummer Kasper Botond and bass guitarist László Bánfalvi providing a thundering background to the blistering guitars and vocalist Ádám Foczek in top form.
The record has a heavy, all-encompassing feel to it with the darkness of 'Mournful Heavens' dripping with imminent doom and the brutal majesty of the title track serving as a harbinger of what is to come. Don't miss the unique contrast midway through 'Chrononaut' as the pace slows briefly and the guitars take on an almost flamenco tone to them before cranking it back up again.  Guest vocalist Martina Horvath of Thy Catafalque is a beautiful contrast to the harsh vocals of Foczek on the haunting 'Planet Oblivion.'  The colossal 'Transgalactic' closes out the album and story. Clocking in at over ten minutes, the song is a perfect conclusion to our cosmic journey ending in screams followed by silence before a classically influenced, progressive outro.
Come and take a journey into the unknown with Needless and experience the sonic treat that is 'The Cosmic Cauldron'.
'The Cosmic Cauldron' is out now. You can get your copy HERE.
All content © Über Rock.  Not to be reproduced in part or in whole without the express written permission of Über Rock.