By Bona Pjarren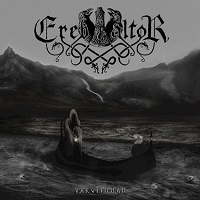 Swedish band Ereb Altor were founded in 2003 by Mats and Ragnar of the doom metal band Isole, as a continuation of Isole's predecessor Forlorn's style, mainly influenced by Bathory. Now I freely admit I'm a bit of a Bathory fan and loved Hammerheart so I was quite eager to hear this new album from Ereb Altor, the title of which means "time of the wolf" by the way.
The album begins with a three-part acapella harmony, skilfully sung by Mats, Ragnar and Mikael, which is impressive in itself and beautifully introduces 'I Have The Sky'. It is a strong initial song. It is well constructed and very atmospheric in keeping with its Nordic roots. It has some nice guitar parts and subtle keys accompanying striking vocals.
The title track of the album, 'Vargtimman', is the second song. This track has a mix of extreme and clean vocals, and the keyboards are more to the front. With quieter sections it is quite a musical journey. The clean vocals at time adding a feel of angst against a background of sharply played double kick drumming, delivered by Tord. I guess given the subject matter of the previous track that 'Fenris' had to be next. Brooding keys and frame drum feeling rhythms herald the giant wolf's presence on this album. Well thought out melodies are hung thoughtfully over driving double kick drumming. The music is well arranged with a view to giving a feeling of light and shade, heavier sections leading into more laid-back softer passages.
'Rise of the Destroyer' is typically perhaps the most black metal, least folky track so far. It has a driving intensity to it that seems relentless. Again, there is a mix of extreme and clean vocals that duel with each other which really add to the frenetic feel of the composition. 'Alvablot' means "elf sacrifice" and is a spiritual observance as mentioned in the poem 'Olaf The Fat'. It is a much slower doom ridden piece with soaring clean vocals and a strong Nordic feel to its composition. The chanted harmonies add atmospherics to the music and really give a Norse neo-folk feel to it.
'Den Dighra Döden' follows with haunting floating ambient keys floated creepily beneath grunted vocals before launching into the main body of the composition. With definite black metal undertones and raven caws in the background it is a very dark piece. 'Ner I Mörkret', or 'Down in the Dark', has a great intro with stabs and rolls from the bassist and drummer delivered precisely together. It is another track that skilfully mixes black metal elements with Bathory style Viking metal. Great doom-laden slabs of riffs float effortlessly under the mix of clean and grunted vocals.
And now to 'Heimdal's Horn' which is the final track of the album. It has strong well considered riffs and haunting vocal harmonies and it marches along to a strong beat, enhanced by relentless guitar chugging. There are some nice ambient keyboard parts to add to the overall feel.
In conclusion, 'Vargtimman' is a strong Viking metal album with black metal elements that certainly is evocative of Bathory. There were some really nice vocal harmonies and great musicianship. It is an album worthy of inclusion of the collection of any Viking metal fan.
'Vargtimman' is released on Friday (14 January). You can get your copy HERE.
https://www.facebook.com/ErebAltorOfficial
All content © Über Rock.  Not to be reproduced in part or in whole without the express written permission of Über Rock.