By The Dark Queen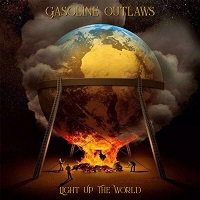 Belfast-based quartet Gasoline Outlaws are about to self-release their long awaited second album, 'Light Up The World'. It was originally due to be released this Friday (5 April) but due to much-publicized problems with Pledge, the release date has been delayed until 10 May.  They formed in 2014 and released their debut album 'No Rules No Laws No Regrets' in 2015.
As the first blast of drums followed by a hypnotic bass riff on the title track 'Light Up The World' waken my eardrums, followed by a hard aggressive guitar riff, it obvious that they have gotten tighter as a band (by no means am I saying they weren't before) and the production is excellent. Matt Fitzsimons' (the wee man with the big voice as we call him lol) vocals kick in and the power of his voice slaps you straight in the face. This is a heavy rock band with their own twist to the genre. Adam's third arm (his guitar) bounces the opening of 'Livin' This Way' along into an in your face story about frustration of oppression felt in a situation.
'Better Days Coming', featuring a duet with Amy Montgomery (who's voice is just as powerful as the wee man's) brings us a powerful story of hope in life's struggles. Ballad 'Where We Started' truly showcases the full extent of Matt's vocal range as he alone did all of them. It is a powerful song and I am not ashamed to say it reduced me to tears.  "I never needed anyone" they sing, but the truth is we all do. It hits the heart strings and if it doesn't then you don't have a heart (my opinion).
'Psycho' blasts back again then back tracks into a melodic verse only to pounce straight back with aggression and fire. 'The System Is A Lie' is a total fight back at the so-called authorities that are supposedly representing the population: it's a message that needs to be said, and this song does it with equal measures of anger and despair. 'Fight For One More Day' is such a fight back song preformed with so much passion. It is in your face and has all the things a song needs to stick in your head (even when you're not listening to it).
'Executed' slows the pace down again but it is unforgettable. Lyrically it's hard hitting musically it's no less than perfect. Hey, we have been executed for one reason or another and if you want to no what I mean just listen. 'Breathe Again' is another song full of I don't get a fuck attitude. It's not afraid to ask for help but I will still fight back. Musically it's as hard hitting as it is lyrically: "the fight's still in me…." Closer 'Hard Times' begins very softly with just Matt's vocal and Adam' guitar and builds into a passionate fight back against life and love. It is beautifully put together combining everything is bands is and wish to be in the future.
As everyone in bands and music fans alike know, the second album is hard to produce as quite often it is referred as a poor follow up but in my humble opinion this album not only lives up to it's predecessor it surpasses it. With this album, as with their debut, they have truly caught the energy of their live performances. I have never hidden the fact that I am a fan of the Outlaws, but I was dubious about this album (because it's their second)… I can honestly say, hand on heart, I fuckin' love it… this from The Dark Queen x
'Light Up The World' is released on 10 May. You can get your copy HERE.
www.facebook.com/gasolineoutlaws/
Gasoline Outlaws officially launch 'Light Up The World' at the Diamond Rock Club on Saturday 4 May. You can get your ticket HERE. Return bus tickets from Belfast are also available HERE.
All content © Über Rock. Not to be reproduced in part or in whole without the express written permission of Über Rock.