By DJ Monk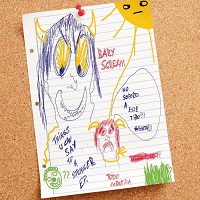 Despite their usually prodigious work rate – six albums, three EPs and five singles in their first decade of existence – it has been 18 surprisingly long months since we have been graced with new product from Argentinian power pop brigade Baby Scream. Their last output, 2017's 'Life's A Trap' was described in these hallowed pages as "the work of someone who clearly has a deep, deep love for his genre of music and that rare gift of knowing exactly how to deliver those goods", with our then colleague going on to praise band founder and leading light Juan Pablo Mazzola as "a shining light in an ever-darkening world".
Well, wind the clock back to the beginning of the first quarter of 2019, and Senor Mazzola has picked up exactly where he left off with another excellent collection of acoustic led dreamy power pop gems which reference with ease and aplomb its creator's wide range of obvious influences, from Lennon to Bolan, Lane to Westerberg.
The chilled out vibe generated across this EP's five tracks is a bit disconcerting, especially when you consider some of the almost vitriolic lyrical subjects being addressed in Mazzola's often aching and always poignant vocals:  "give a fuck about people who give a fuck, it has to stop" he declares with an ironic, genteel deference on the beautiful opener 'Aching Life', which indeed does possess a sort of 'Imagine' crossed with 'Working Class Hero' protestation about it.
These use of acoustic instruments to reduce the power pop mien to its most basic elements works wonderfully, ensuring that the songs speak for themselves without getting lost in a glossy over-production. Yes, there are high production values, such as the orchestration on 'Fake It Till You Make It', and electronics, like the stabbing guitar interjections on 'Roundabouts', but these serve to accentuate the beauty of the songs rather than drown out the messages contained therein.
'Things You Can Say To A Stranger' is another slice of dreamy, psychedelic power pop loveliness from an artist who rarely puts a foot wrong when it comes to producing same, although, for maximum effect, it is perhaps better suited for a balmy summer evening on the South American pampas than a cold, rainy Monday morning in Belfast. Nevertheless, a pleasant listen and definitely one I will revisit when, or if, those summer nights ever revisit this particular corner of the Überverse.
'Things You Can Say To A Stranger' is out now. You can get your copy HERE.
www.facebook.com/juanmazzolapowerpop/
All content © Über Rock. Not to be reproduced in part or in whole without the express written permission of Über Rock.