By DJ Monk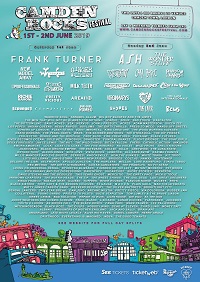 Über Rock's fave folk-punk singer-songwriter, Frank Turner, has been confirmed to headline the Saturday night of this year's Camden Rocks Festival.
Turner said of the announcement: "I (mis) spent my youth getting the train to London and the tube to Camden as fast as I could, because I knew it was the epicentre of where I wanted to be in life. As an adult I've lived in and around Camden, and now I'm at the Camden Rocks Festival. It feels like exactly the right place for me to be, it feels like home. I can't wait."
Among the other 90 bands announced today are Richie Ramone, The Wonder Stuff, The Professionals alongside the likes of Eliza And The Bear The Dirty Thrills, Queen Bee, Gold Key and Mutant Monsters.
The new additions to the Camden Rocks Festival 2019 join an already impressive list of talent from rock, indie, alternative, folk and punk music and its myriad of hybrids – a diverse list including the likes of Ash, Ratboy, New Model Army, Wheatus, Carl Barat, Ginger Wildheart, Milk Teeth, Pretty Vicious, Raging Speedhorn, Angelic Upstarts, The Virginmarys, The Last Internationale and many many more.
Camden Rocks takes place on Saturday 1and Sunday 2 June 2019. Such is its popularity that all early bird tickets sold out before a single band was announced. However, day or weekend tickets are available HERE.