By Rich Hobson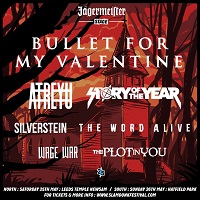 Slam Dunk Festival is truly beginning to take shape, the latest announcement confirming the sequencing for the Jagermeister Stage.
Set to run parallel to the Impericon Stage (with no clashes between the two), the Jagermeister Stage will feature headliners Bullet For My Valentine, with support from the likes of Atreyu, Silverstein, Story of the Year and Wage War. Things will kick off early with an appearance from The Plot In You as openers.
With 46 bands already announced and more TBA, Slam Dunk 2019 looks to be a massive year for the event. Spread across two separate dates (Leeds Temple Newsham Park on 25 May and Hatfield Park on 26 May), the event offers a gathering of the great and the good in the worlds of hardcore, metalcore, pop-punk and punk rock.
So far three stages have been announced – Punk in Drublic (in its UK debut), Impericon and Jagermeister. Across these stages fans can expect to see the likes of NoFx, Bad Religion, Cancer Bats, Gallows and The Bronx, with a number of bands still awaiting official stage confirmation.
Tickets for Slam Dunk are on sale now.