By DJ Monk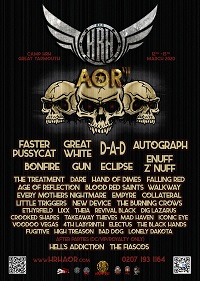 Even though it's only five weeks away, even more top-quality bands have been added to the HRH AOR VIII line-up!  
German metallers and HRH regulars Bonfire have been added to the main stage on the Friday night, replacing Madam X, who have had to pull out due to commitments in the States.
Also added to the bill are Liverpool hard rockers Little Triggers, who will open the main stage on the Thursday. Alt-rockers Lonely Dakota will open Stage Two on the Friday, with the same billing also featuring NWOBHM stylists High Treason, while HRH Highway To Hell winners Twister – who enter the studio next week to record their new EP – will take to Stage One on the Saturday. Completing the latest announcement are one of the youngest bands ever to take to an HRH stage, the Tony Iommi-mentored Ethyrfield, while Hells Addiction and The Fiascos have been confirmed to play the after show parties on the Thursday and Friday respectively.
HRH AOR VIII takes place at the Vauxhall Holiday Park in Great Yarmouth over the weekend of 12 – 15 March. A very limited number of tickets are still available.