By Rich Hobson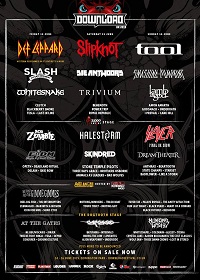 It feels like an age since Download Festival last made any significant additions to the line-up – especially as other fests have steadily filled their ranks – but the big dog has bit back with a massive 43-band announcement. What's more, the poster finally clears up any confusion about which days and stages bands are playing, the updated line-up poster showing the shape of how days will likely look.
In addition to headliners Def Leppard, Slipknot and Tool, the second stage will offer a counterpoint in the form of Rob Zombie (Friday), Halestorm (Saturday) and the final ever UK Slayer appearance. Doubtlessly, some complaints will arise that Zombie and Slayer are just reprising their bill positions from Download 2017, but there's no denying that nothing less than the offering of a full stage-show (complete with bells, whistles and more explosives than a WW1 battalion) will do, and both bands have already proven their ability to pull crowds away from main to offer something completely different. Halestorm's ascension to second stage headliner also marks the confidence that the UK music industry has in the band, and will no doubt set the stage for the band's first ever arena run in November.
Looking across the three days, it appears Download is still looking to balance its acts out to maximise crowds maneuvering from one stage to another. How else do you explain the likes of Eagles of Death Metal supporting Rob Zombie, preceded by Opeth, who are in turn preceded by supergroup Deadland Ritual and Skid Row, currently all the way at the bottom of the stage? Mental, innit? Of course, there's also some very sensical bookings – Skindred before Halestorm is going to be a real crowd pleaser, something that might be needed depending on the reception of the zombified incarnation of Stone Temple Pilots. Skipping past that are US radio rockers Three Days of Grace and Bad Wolves, both returning to the UK after a successful run last autumn.
Sunday's second stage looks like a mixture of the eclecticism of Friday and the smart-thinking of Saturday; Beartooth into Anthrax is a solid enough line-up that we'd pay to see a whole tour of it, though the effect is somewhat twisted by sticking the 10-minutes-or-more prog pomp of Dream Theater right before Slayer, whose songs scarcely break the six-minute barrier.
Much as Download 2018's Saturday main stage seemed to cater entirely to the nostalgic rock circuit, this year's Friday will offer much the same joy to those fans. Def Leppar ddoing 'Hysteria', Slash and Whitesnake is about as stacked as classic rock royalty goes, but when you throw the likes of Blackberry Smoke and Tesla in the mix you've got plenty for the older crowds to camp out and enjoy. Of course, that says nothing of the inclusion of Clutch into the mix – a band as comfortable with good ol' fashioned rock n roll as they are with rootsy, furious hardcore, meaning there's a chance to pull some big crowds (old and young alike) there.
Saturday's main stage looks to be a much more metallic affair. In addition to Slipknot (who by then will hopefully have dropped the new album) enjoy some seriously hard riffing build-ups thanks to the likes of Trivium, Behemoth and Power Trip all earlier in the day. Quite how the metal crowds will respond to Die Antwoord remains to be seen, mind. That said, it's not all metallic glory; Scandinavian riff-slingers Royal Republic look set to get the party started early on Saturday morning.
Sunday is a much more eclectic affair – something we can't be too surprised about, considering Tool make their much-awaited return to the UK for the first time in 13 years (and, if rumours are to be believed, with an album out around April time). On that Sunday, Donnington has pulled out the likes of Smashing Pumpkins, Lamb of God and Amon Amarth, all solid draws in their own right. Chuck nu metal newcomers Cane Hill at the bottom of the bill and you're talking some serious eclecticism.
The lowest two stages have also enjoyed some fleshing out in this announcement, with the Avalanche Stage on Friday largely hosting a massive ska punk party in the form of Me First and the Gimme Gimmes, Reel Big Fish, The Interrupters and Zebrahead – it looks like frequent tour collaborator Less Than Jake are tied up with Slam Dunk a couple weeks before. The Saturday on Avalanche Stage still looks relatively sparse, with Nothing, Nowhere and Trash Boat already previously announced, joined now by Yours Truly and Parting Gift. Last year saw hardcore and punk rock royalty fill out the ranks of The Avalanche, but this year doesn't look to be a set repeat. Instead we've got the likes of brilliant up-and-comers Black Peaks and Black Futures uncomfortably rubbing shoulders with tosh rock pap like Palaye Royale and The Amity Affliction – but at least it's confined to the outskirts of the bill.
Speaking of confined, there's sure to be lots of furious, sweaty fun over on the fourth stage. The headliners are listed as At The Gates (Fri), Carcass (Sat) and Municipal Waste (Sun), marking some of the most recognisable names in the realm of extreme metal and very welcome additions to the Download 2019 line-up. Those stages also look powerfully stacked, with the likes of Ne Obliviscaris, Jinjer and Twelve Foot Ninja on Friday, as well as UK metal darlings Conjurer making their Download festival debut. Saturday 4th Stage offers up Batushka, Lovebites and Alien Weaponry, while Sunday boasts Whitechapel, Alcest, as well as ÜR faves Aaron Buchanan and the Cult Classics and Those Damn Crows, among others.
With one of the most stacked line-ups in its history, Download 2019 looks set to retain its crown as the UK's biggest celebration of rock, punk and metal – and everything in between, with thousands set to descend upon Donington from 14 – 16 June.
Download tickets are on sale now.