By Rich Hobson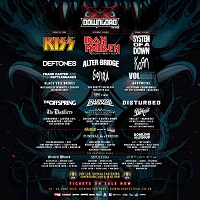 Proof positive that Download Festival lives and dies by its undercard, the organizers have just dropped a further 40 names to its line-up to really help the line-up take shape.
Frank Carter & The Rattlesnakes drop in as a very healthy third on the bill on Friday night, a massive jump up from their third stage appearance back in 2016. Motionless In White also make a welcome return to the main stage on Friday morning, bringing with them their goth-and-industrial tinged metalcore stylings that have made them a true live spectacle.
Over on second stage for that Friday, The Distillers make for a very, very welcome addition to the line-up following their reformation shows last summer. Subbing to The Offspring, you can bet we'll be hoping for plenty of sunshine to soak up the punk vibes on that stage. Of course, it's not all punk on second – Lacuna Coil will be bringing some goth metal shade to proceedings, preceded by Amaranthe for some power metal bombast, backed up by industrial/tech weirdos Hatari and rock 'n' rollers The Glorious Sons to show variety truly is the spice of life so far as Donnington is concerned.
At this point we still don't have an Avalanche Stage headliner for Friday night, but that's not a problem when everybody's favourite Springsteen-flavoured punks The Menzingers will be making their long-awaited Donington debut following last year's brilliant 'Hello Exile', preceded by equally brilliant Canadian punks PUP, whose 'Morbid Stuff' also made plenty of waves in the punk world last year. Further down the bill we have the mysterious Sleep Token, a band that has set the industry abuzz with interest as of late. Speaking of buzz, the likes of Gender Roles, Press Club and Wargasm make up a healthy dose of up-and-coming talent hoping to make a splash on that stage. Steve Harris looks to be taking on double duty over the weekend as he makes a debut appearance with British Lion over on the Dogtooth Stage, while noise agitators Will Haven make their Download UK debut after appearing at the Spanish incarnation of the festival in 2019.
Always the sub, never the headliner, Alter Bridge's position on Saturday's main stage sees them caught in the same limbo they have been for the better part of the last decade. While we love Killswitch Engage and can't wait to see them put on an impassioned performance as Saturday's second stage headliner, we can't help but feel Alter Bridge need to get a full headline spot *somewhere* on the line-up at some-point. Backing Killswitch up are the indomitable Mastodon, and while we haven't quite forgotten the misfire of their last Download appearance (2017, at the start of the 'Empire of Sand' cycle) we're willing them to put on an absolute barnstormer of a set this year, especially if they're competing with Gojira – one of the best live bands in the business at the moment.
A little further down on that second stage we have the perennial radio rock attachment in the form of 3 Doors Down (sandwiched between Daughtry and Bush, which we're sure is great… if you're into that kind of thing). Over on third, Funeral For A Friend make a (sort of) surprise return following their indefinite hiatus. Reforming for some charity shows last year (with each show selling out fast), the demand is still clearly there for the band and we can hope for a very triumphant return come June. It's not all nostalgia for Avalanche that day – far from it in fact, with the likes of Employed To Serve, Holding Absence and Loathe all representing a veritable bounty of new heavy delights.
We haven't heard the new Sepultura record as yet, but if the singles are anything to go by it'll be an absolute monster, so it's great to see the band making a headline performance on the Dogtooth Stage on Saturday. Backed by the likes of Obituary, Dying Fetus and Chelsea Grin, you can bet there'll be some seriously heavy nastiness rumbling in the tent on Saturday night. Further down that bill you'll also find recent Singles Club alumni Fire From The Gods (a Bad Wolves style radio metal band heavily endorsed by members of Five Finger Death Punch no less and about to hit the UK in support to Mongols The HU) and hardcore warriors Higher Power whose new record '27 Miles Underwate'r is fantastic and dropped last Friday (24 January).
Disturbed have officially been confirmed to headline Sunday's second stage, though with System Of A Down over on Main we expect there'll be some level of staggering to ensure the fanbase overlap won't negatively affect footfall. Just beneath Disturbed are British rockers The Darkness, their prominent placing promising a massive sing-along. Bowling For Soup return after a six year absence to headline The Avalanche Stage, marking the band's fifth appearance at the festival and offering a pop-punk tinged alternative to the more decidedly nu metal stylings on Main/second. New additions to that stage include ska punks The Skints and rising stars of the British rock scene Milk Teeth, albeit in a very similar position to the spot they played back in 2018.
Finally, we have a spat of techy goodness in the form of Sunday Dogtooth headliners Periphery, backed up by the likes of Northlane, Polyphia, Haken and SHVPES. The Dogtooth stage has hosted a diverse range of acts the past few years, and this year is no different with Twin Temples representing a very different take on heavy metal with their doo-wop stylings liable to pack the crowds in on Sunday afternoon.
While by no means an exhaustive list of the latest additions, we can see the line-up truly starting to take shape now, with plenty to be excited about for this summer. It bears worth mentioning that the positions currently stated on the poster are by no means cemented, particularly for smaller bands. Previous years have shown bands jumping around stages and days to better sequence the line-up, so any perceived potential clashes at this point are pure hyperbole.
Download Festival returns to Donington Park this June, running from Friday 12 – Sunday 14. Tickets are on-sale now – for more information, visit www.downloadfestival.co.uk