By DJ Monk and The Dark Queen
What better way to blow away the January blues and usher in a new month than in the company of one of the zaniest and most entertaining bands the Über Kingdom has produced in many a year? Oh, and Evil Scarecrow! Ha, ha! Anyway, we'll get to the return to ÜR's home city of Nottingham's favourite headbins in few paragraphs…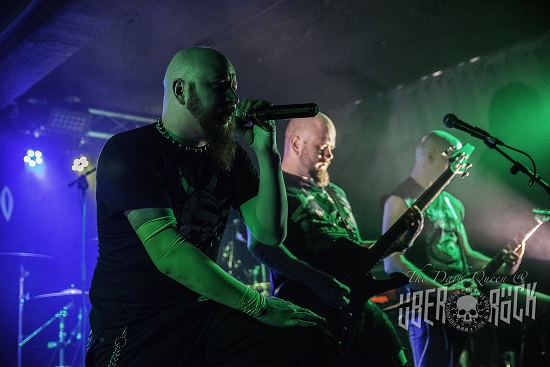 With main tour support Ten Foot Wizard not having made it across the Irish Sea, the seemingly onerous task of getting the assorted freaks and robots gathered in front of the stage for the imminent party fell to local favourites Cursed Sun. But, in all the years we have been following them, we have rarely, if ever, seen them perform a poor set, and they have always risen to every challenge placed before them, no matter how outlandish. And you can't get any more outlandish than opening for Dr Hell and his crüe, can you?
Right from the opening blast of 'Breeding From Bleeding' it is obvious that the lads are in great form (as if they're ever anything but). These guys live to play live, as is evinced by the ever powerful performance from charismatic frontman Jones, who prowls the stage like a Dobermann with the scent of a burglar's blood in its nostrils, his lens-augmented eyes piercing the very souls of everyone present.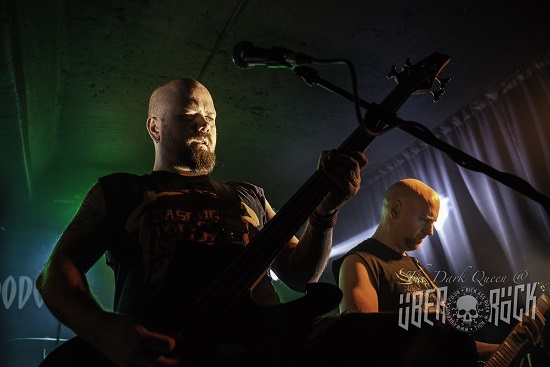 The rest of the band are tighter than a coiled pylon wire, with the addition of Steve Martin having added a gratifying depth to their sound, both musically, in terms of the sheer aggression of his bass work, and vocally, with his acerbic backing of the frontman.  They blast through their 30-minute set with aplomb, their Lamb Of God-esque groove delivered with power, passion and belief in equal measures, as they descend first into 'Primordial Chaos' and then 'Cataclysmic Decline', the latter characterized by its "if you build it they will come" chant and Jones' traditional offstage walkabout.
They also introduce us to a new song, "about killer clowns", in 'Crawlspace', before the chants of 'Murder Death Kill' fill both the venue and the surrounding streets with their sheer volume. All too soon, it's over, but not before there's a chance for Belfast to "make some noise one more time" as they round off with another in your fuckin' face rendition of the show-stopping (literally, on this occasion) 'Replicant'. Another superb performance from one of the most consistently brilliant bands on the Irish circuit.
Cursed Sun play the Sudden Strike Fest, at Alexander's Bar in Lisburn, on Saturday 16 February.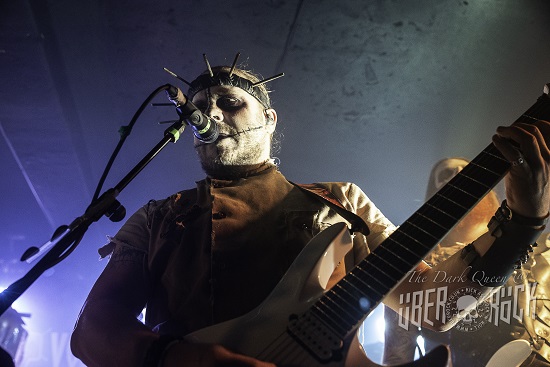 Given the theme of their current album, Zep's 'Immigrant Song' is an appropriate intro for the Scarecrows. With their full stage show – well, what they can fit of it onto Voodoo's intimate stage – now unveiled, they teach us that there is only one 'Way To Die': and that is with a massive grin on our collective faces and rock 'n'f'n' roll pulsing through our veins. After the initial sonic assault, it's not too long before the fun really starts, with the first of the night's "special guests" (i.e. their poor road crew in oversize costumes) join in to add extra weight to the percussion on 'Skulls Of Our Enemies'.
The thing is this though: under all the make-up and behind the comedic dance routines, these guys can actually play, and write fucking catchier-than-Ebola rock 'n' roll songs, as they prove on 'Morbid Witch', with its deep rumbling bass and stunning double kick work, both topped off with a beautiful winding guitar harmony. Of course, the silliness and audience participation are essential elements of the ES recipe as well, as Dr Hell proves when he promises to "turn Voodoo into the biggest heavy metal dance club in the world": it may be a tiny venue, but he by and large succeeds, as the floor sways and vibrates first to the irresistible 'Dance Of The Cyclops' and then the 'Robototron', which Dr Hell dedicates to all the "dirty dirty Evil Scarecrow virgins" and sees more robot dancing than a certain TV advert for a certain price comparison website.  Talking of those ES virgins… a photographer friend, Stevie, is standing beside me, eyes and mouth wide open:  "this is fucking amazing," he repeats, over and over, before proclaiming it as "probably the best gig I've ever seen in here." Yep, the Scarecrows win new fans everywhere they go: it's as if some form of mass hypnosis is at work and bowing everyone present to the force of what they are doing.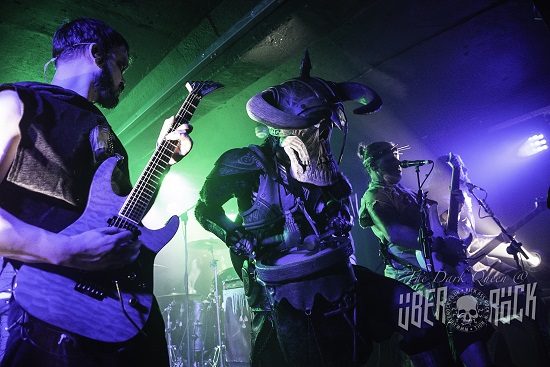 "If you're not robot dancing, you might as well go home, or go see an acoustic duo, 'cos there's a lot more silliness to come" promises Dr Hell. And, as ever, he lives up to that promise, as they take the piss out of/pay homage to Iron Maiden, Cradle Of Filth and Metallica on 'Blacken The Everything' (yes, they really shook the setlist up tonight). There's the 'phones in the air lighting show for 'The Ballad Of Dr Pain', before the crowd-splitting singalong of 'Cosmos Goth Moth Gang', which Dr Hell totally fucks up, to a savage degree: and then, as if you knew what to expect next, just as the guitar solo should be kicking in, Dr Pain ditches his instrument to dive into the crowd and deliver high fives all around the dance floor.  Manic stuff…
… But, would we expect anything less? Of course we wouldn't – and there's still more to come, such as the UFOs on fishing rods floating over the bands' heads during 'Space Dementia', a "sexy dancing" contest and, of course, the work of genius that is 'Crabulon'… and if you need me to tell you what that's all about, then you obviously have something missing in your life! As the crowd outdo Dr Hell on the traditional "eggs" chant, leading the frontman to declare us all "wankers", the set comes to a riotous conclusion with the arrival of the omnipresent 'Polterghost' and finally us all spinning until we're sick as we whip up a 'Hurricanado' in the back streets of Belfast (hey, Barra, you didn't see that one coming, did ya?).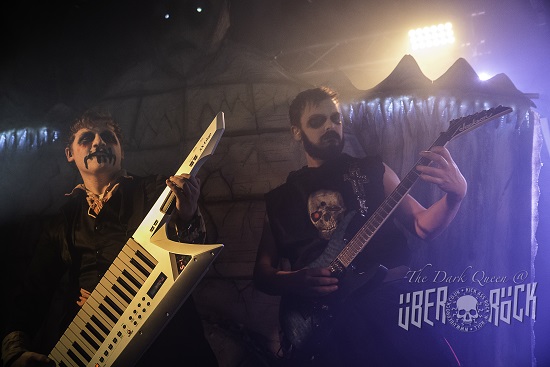 One thing is for sure when Evil Scarecrow hit town: an entertaining night. Sometimes, it's not just about the music, but the overall enjoyment, the spectacle and the entertainment venue: ES deliver all of this, and lots more, in positive spadeloads. It may be only early February, but this is one show that is going to stick in my memory cells as 2019 winds its way toward the inevitable best of the year nominations… Thanks guys. Catch yez next time around.
Evil Scarecrow play the Primordial Radio AGM at Lincolnshire Showground on Saturday 27 April, the Uncut Festival in Derbyshire on Saturday 18 May and Bloodstock on Saturday 10 August.
PHOTO CREDIT: All photos © The Dark Queen/Uber Rock. You can view our full gallery of photographs HERE.
All content © Über Not to be reproduced in part or in whole without the express written permission of Über Rock.