By Steve Mirsik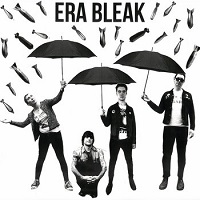 We are certainly living in strange and troublesome times and Portland, OR, punk-rockers, Era Bleak, are here to provide the soundtrack! Our country is currently being run by a tangerine tyrant, during a global pandemic, and it seems like no one can be trusted. Honestly, what could be more bleak than that? Right from the start, you're hit with a wall of raw, in-your-face energy with the title track 'Era Bleak'. The lyrics "Things get shittier every week/No hope for the future in this era bleak" perfectly sums up how 2020 is going so far and it's only the beginning!
Era Bleak, featuring members of Dark/Light and Piss Test, provides relentless 1980's hardcore, punk rock vibes, while still capturing a sound that's very much their own. Candy's vocals grab you tight and shake you to the core on 'Robot', which packs a huge punch in only one minute and 19 seconds! Track after track, this album is bursting with energy and refreshing honesty about the current state of the world. The same rings true on 'Mind Control Tower' during a time where so many people are brainwashed by the false information from our "leaders". Likewise, another relatable sentiment comes from 'Opinions' lyrics: 'We've all got something to say/We've all got nothing to say'.
Other notable tracks from this LP include 'Burning Sky', 'Struggle', and 'Tinder Box'. This album gives you the sense that you're not alone and even though things are bleak, we can get through it together. Who said Covid-19 could stop creativity? Era Bleak have also released two socially distant music videos for their title track, as well as 'Mind Control Tower'. In a time when concerts are non-existent and fans are looking for a way to connect, what better way than through a music video? These home-made recordings capture the true essence of the band and are packed full of personality.
There's no denying that Era Bleak are carving their own path in the punk rock scene. The blistering speed and precision of the rhythm section (Justin/Spiz), paired with frantic guitar riffs from Zach will have you thrashing around in no time! Recorded at Portland's very own Red Lantern Studios, this album will be spinning for quite some time.
So, what are you waiting for? Listen for yourself! Grab a digital download or pick up a limited to 300 edition of the vinyl and you won't regret it!
'Era Bleak' is out now. You can get your copy HERE.
All content © of Über Rock. Not to be reproduced in part or in whole without the express written permission of Über Rock.