By Jim Rowland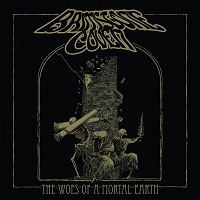 Back in 2016, I was asked to review Brimstone Coven's second album 'Black Magic', which was released on Metal Blade. I was immediately enchanted by the sound of these Ohio melodic occult rockers, and the album ended up as my choice for album of the year that year. It was an excellent album that should have propelled them onto a whole new level, and certainly deserved to. Instead, circumstances stopped the momentum and they fell under the radar, but now they're back with a new deal with Ripple Music and a new album 'The Woes of a Mortal Earth'.
The disruption in the Coven occurred the year after 'Black Magic' was released, as the band parted ways with Metal Blade and also powerful vocalist John Williams and drummer Justin Wood. Recruiting new drummer Dave Trik, the remaining duo of founder and songwriter guitarist Corey Roth and bassist Andrew D'Cagna decided to forge on as a trio, self-releasing 'What Was and What Shall Be' in 2018, an album that fell under my radar, so this new one is my first chance to see what the current Brimstone Coven can deliver.
Brimstone Coven are well suited to Ripple, and this new album is described as the band's darkest sounding album to date. The core sound of the band remains fairly intact, with the Sabbath inspired heavy doom riffing retaining the authentic late 60's/early 70's vibe where the guitars are heavy but not crushingly over the top in a distorted metallic fuzz. The vocals retaining the lush, melodic and harmonised approach that characterised 'Black Magic' so well. Indeed, with the absence of Williams' powerful lead vocal, the harmonised approach to the vocals is even more to the fore.
'The Woes of a Mortal Earth' is quite a short album, comprising of just six tracks, and clocking in at the 35 minute mark. It's definitely a grower, and perhaps more focused on a specific sound, lacking some of the diversity and broader palate of the 'Black Magic' album. Opener 'The Inferno' is a belter and captures what Brimstone Coven are all about, combining doomy riffing with classic rock groove (check out the cowbell!) and occult inspired subject matter within those well delivered harmonised vocals. 'When The World Is Gone' is another highlight, dropping the tempo and delivering a laid back but powerful punch that sounds like a direct cross between Black Sabbath and Free.
For me 'The Woes of a Mortal Earth' is a fine album but doesn't quite hit the heights that 'Black Magic' did, and I'd be lying if I didn't say that I missed the vocals of John Williams, but there's more than enough here to make this a very good listen. If you're a fan of bands like Witchcraft, Blood Ceremony, Uncle Acid and The Devil's Blood, or old school pioneers like Black Sabbath, Pentagram, Captain Beyond and Black Widow you should be checking out this band and this album. Brimstone Coven are definitely back on track.
'The Woes Of A Mortal Earth' is released on Friday (21 August). You can get your copy HERE.
www.facebook.com/brimstonecoven
All content © Über Rock. Not to be reproduced in part or in whole without the express written permission of Über Rock.