By Jonny Bakes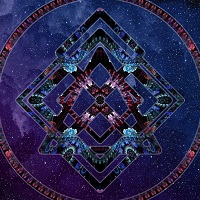 There's a very good reason that I have a playlist called "Prog Me Harder" on Spotify and that's because I can't get enough of the experimentalism and unorthodox nature of prog metal. I love the way that the songs are structured in such a way that they seem to suck you out of your body and into an almost dreamlike state, then suddenly you've listened to a 20 minute track and it feels like no time has passed at all. So, when the debut album from the progressive trio from Leeds, Divided by Design, landed in front of me for review, I knew it was time to see if it passed the Jonny Bakes prog playlist test…
The Leeds lads have been putting huge amounts of energy over the past few years into relentlessly gigging and building up a formidable live presence. Particularly focussed on the Yorkshire/Lancashire areas where they became pretty popular in their home city, by the time 2020 rolled around they were startin to break further afield with shows in London, Newcastle and Glasgow to name but a few. With the current drought of live music though, it seems like the perfect time for Divided by Design to drop this debut full-length album to remind everyone that they are still very much a musical force to be reckoned with.
This is where 'Stages to Osiris' comes into play, with its five track journey through the five stages of grief, a cheery subject for sure, but this thing is pieced together in such a way that you'll quickly be lost in each stage. The album draws inspiration from many of the big names in the progressive music scene with claims of Animals as Leaders and Dream Theater to name a few. There are plenty more comparisons I could make, as the music changes lanes swifter than an impatient BMW driver on the motorway, but I would just be wasting this review listing bands, and that's not what you want to read.
Everything about this album makes me want to give up playing instruments because there's simply so much talent here. As a drummer myself, I found myself instantly envious of the tightness of Tom Chambers' polyrhythmic drum pieces and the ability to partner beautifully with Joe Messingham's thunderous basslines. I'm no guitarist though, but even I'm blown away by Liam Stephenson's guitar work as he shreds through everything from frenetic tapping solos to heavy chunky riffs.
As you step through each of the stages of 'Orion', you start off with the dark and slow first movement 'Orion I: Denial' which is full of aggression ending in a melancholic transition into the next movement 'Reactionary'. This kicks off with a very Djent twinged introduction (there's that Animals as Leaders influence) accompanied with a heavy use of synth which again is pretty aggressive before flowing through into a gentler passage. There's something about this that really starts to tug at the emotions, and I'm pretty sure it was by about halfway through this track that I was completely sold. Let's not spoil the whole story for you though, you should definitely be picking this up if anything I've said has even triggered the slightest bit of interest.
It's not often that I use the phrase "emotional rollercoaster", but considering that this is the exact theme of the album, then it is a more than appropriate use for it. It is everything I wanted from this album and more, to the point where it has quite easily worked its way into my playlist. For the more casual prog metal listeners, don't worry, this album is split into nicely manageable five-to-eight-minute chunks, each of which could be listened to in it's own right, so there's no need to have commitment pressures! For fans of Tool, Periphery, Rush and more, this is an album that should rock your boat in all the right ways. And if you're just a dabbler in the progressive music scene, this could easily be the album that makes you take the plunge into the deep end. We may only be just over halfway through the year, but this album is an early contender for top albums of the year for sure!
'Stages To Osiris' is out now. You can get your copy HERE.
www.facebook.com/dividedbydesignband
All content © Über Rock. Not to be reproduced in part or in whole without the express written permission of Über Rock.