By Monk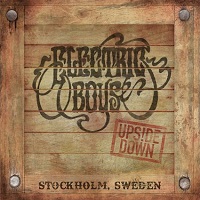 There is no doubt about it, but the last 13/14 or so months have indeed been pretty upside down, with the entire world turned on its head by a global pandemic that, in many ways, has forced us all to think long and hard about how we go about our daily lives and what is actually truly important to us. It's also been a period which characterized by fear, of the unknown and of the omnipresence of social media-fuelled conspiracy theories, fake news and hypocrisy. However, it has also has been a time when true human spirit and resilience has shown through – and it is this latter aspect of our most recent history which Electric Boys, a band who could be argued to have one of those responsible for the rise of the New Wave of Classic Rock movement that also has become such a prevalent feature of our musical landscape, have sought to capture on this, their first concept album in their 30+ year long career.
It is perhaps understandable that, given the backdrop against it was birthed, and the inspiration behind the lyrical content, that this is not only the most political album which Conny Bloom and his bandmates – erstwhile bassist Andy Christell, new guitarist 'Slim'Martin Thomander and stand-in drummer Jolle Atlagic (founder sticksman Niclas Sigevall was stranded in LA because of the pandemic but remains very much part of the band – have produced, but also their heaviest, with the emphasis switching from funked-up rhythms to heavy-ass guitar grooves, as exemplified on the likes of the suitably RATM-reminsicent 'Never Again Your Slave', the swaggering 'Globestrutter' and the barroom punk boogie of 'Twang 'Em Kerrang 'Em (I'm hoping that's not a paean to a certain pop music magazine – ooh bitchy).
That's not to say that many of the traditional elements of the Boys' sound have been eschewed or sacrificed: nothing could be further from the truth, and they are there aplenty, from the sweeping phantasmagoria of soundcapes that make up the opening 'Upside Down Theme' through dancefloor catchines of new single 'Tumblin' Dominoes', the psychedelic late Beatles-eque vibe of 'She Never Turns Around' to the TWD-era Bowie prance of 'The Dudes & The Dancers'.
Despite the apparent darkness of its theme, 'Ups!de Down' is also a surprisingly upbeat and optimistic album: the aforementioned 'Tumblin' Dominoes', as stated, is a old-fashioned dancefloor anthem in the making, while the surprising languid 'This Is Not The End', which once again contains massive dollops of Bloom's affection for Bowie, gives us a brightly shining message of hope for the future, which is continued on the space-bop closer 'Interstellafella', which again (despite it's 6'46" length) could fill dancefloors from here to the Delta Quadrant and back again.
'Ups!de Down' is a feelgood album that comes at perhaps the best time possible: just as light is starting to shine at the end of the seemingly interminable tunnel that has been the past year and a bit, it provides us with a soundtrack for brighter, more optimistic times ahead and tells us, despite the patness of the Government's catchphrases, we did get through it together…
'Ups!de Down' is released tomorrow (Friday 30 April). You can get your copy HERE.
All content © Über Rock. Not to be reproduced in part or in whole without the express written permission of Über Rock.