By Monk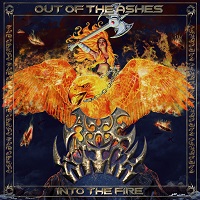 One thing which you can virtually guarantee when you see an album is being released on the flag bearing German imprint Pure Steel is that you get exactly what you would expect: pure, honest-to-goodness steel-clad heavy fuckin' metal of the old school variety – and, once again, this is the case with this, the comeback album from Swedish veterans Axewitch: a band whom you would also expect to deliver exactly what their name suggests…
Hang on there, squire, hit the rewind button for a second: did I say "comeback album"? Yessir, indeed I did… for you see, one thing the Pure Steel label also has a knack of doing is breathing new life in bands who have lain dormant for many years and bringing them back into the spotlight. And this is a case in point, as, following the re-issuing of their 1980s back catalogue (well, four-fifths of it) back in 2019, this is Axewitch's first new studio product in something like 37 years! Feck, there's ÜR readers who haven't been alive that long – and I'm not even going to pretend that I remember the band from their first trip around the heavy metal block… after all, you know what they say: if you remember the Eighties…!
All joking aside, if you are of the generation who remember Eighties Euro-metal of the sort purveyed by Sinner, Pretty Maids and some of the more "mainstream" Music For Nations/Noise Records acts with affection, then you will know exactly to expect from 'Out Of The Ashes…', and it certainly won't disappoint in that regard, as it ticks all the necessary boxes with the same level of affection… Twin guitar harmonies are backed up by concrete solid rhythms and topped off by suitably stern yet enjoyable vocals, all delivered with what sounds like genuine passion and the enjoyment of still being able to deliver the goods four decades after they first sought to weave their spell over the heavy metal Überverse.
There's nothing overly remarkable or unpredictable about 'Out Of The Ashes…', or Axewitch. Advances in technology may have polished their sound (and they may have crunched their name from two words to one), but it's as if these guys simply picked up their guitars and continued where they left all those years ago… and there's feck all wrong with that, as far as I'm concerned…
'Out Of The Ashes Into The Fire' is released on Friday (30 April). You can get your copy HERE.
All content © Über Rock. Not to be reproduced in part or in whole without the express written permission of Über Rock.