By DJ Monk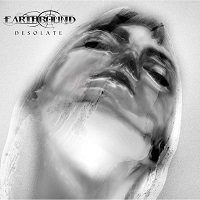 The descriptions that "PR gurus" apply to bands under their wings may be designed to be helpful in giving an idea what to expect from their clients' sound, but they also can be confusing, distracting and more often serve to pigeonhole the artist concerned into a sub-genre where they do not necessarily belong. Hertfordshire-based quintet Earthbound are a case in point: right at the outset, the press release which accompanied this, their second EP, describes them as "melodic death metallers". So, what if you're a music journalist who doesn't like that particular style of metal? You're going to reject it right away, aren't you? Which, would be a mistake, as there is a lot more going on with 'Desolate' than that initial descriptive would suggest…
Yes, that melodic death metal marker is set down right at the beginning, with the fiercesome opening of lead single 'Of Suffering'. But, it is also immediately apparent that this beast of a release has a lot more complexity than the initial punch would intimate: this is an awful lot more than a fiesta of zillion mile and hour riffs and brutalizing blastbeats. Yes, those elements are there, but so are the intricate guitar harmonies, the almost metalcore mix of growls and cleans, elements of orchestration (fuck, are those tubular bells I hear underpinning the bridge?) and surprising twists of light and shade which jump out and grab you, forcing yourself to question what you've just heard as you fall into the maelstrom (sic) of this stunningly impressive release.
As if to emphasize what I've just said, 'Solitude' immediately turns things on its head, with its atmospheric, almost 30STM-ish intro section, which in turn allows Tom Watson to show that he does indeed have a remarkably rich and adaptable voice, before the dark chugging main riff kicks in and builds the song into densely energetic slice of groove-laden metalcore that treads a path some between BMTH and Trivium.
'Desolate' is also a release which reflects the band's ambition, with a huge feel to it, as exemplified by the epic closer 'Remnants', which sounds something like Rush might have done if they had ventured towards the melo-death territory that Earthbound partially inhabit. Again, it twists and turns, thoughtfully building layers of aural delight and displaying a mature dynamic that belies the relative youth of its creators
'Desolate' is a massively impressive EP, made all the more so by the surprising little back alleys down which it takes you during its brief aural journey. As regular readers will know, ÜR is one of the few sites that celebrates the shorter mini-album format in its annual polls: 'Desolate' is most definitely an extremely strong and vibrant contender for the list I will be pulling together in just a couple of short months' time.
'Desolate' is released today (Friday 11 October).
www.facebook.com/EarthboundMusicUK
All content © Über Rock. Not to be reproduced in part or in whole without the express written permission of Über Rock.