By Bona Pjarren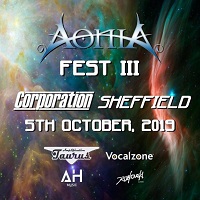 I arrive at the Corporation to the sonorous sounds of Soul Shredder ripping into their first number. They are one of Sheffield's finest operatic metal bands. It's at times like these, that it really underlines for me how good a metal scene we have in this city.
Soul Shredder are first on, they are the warmup act. I have seen this band more times than I care to remember, but they certainly up for this. I can confidently state that they have never sounded better than they did today. Soul Shredder absolutely stormed it. This is going to be one hell of a day.
The superb Joe Stamps is compering for the day, and a fine job he is doing. Although due to sets over running he has had to be short and to the point. It is a shame as I know Joe has a great sense of humour.
Showcasing melodic rock from the West Midlands, Winter Storm gently ease us into their set, lulling us into a false sense of security of course. With an impressive list of support slots to their credit, including Alestorm, they take no prisoners. Their set is high octane and dripping with attitude. Nathan Hutchins, drums, is ill and so keyboardist John Bradley has to take his place on the kit. Damn he's talented! If this is John just stepping in, how good is Nathan? This is impressive stuff. They have been forced to use a backing track for keys because of this, but this in no way detracts from their performance. 'Relapse in Time' is the new album released just yesterday (Friday) and they play 'Astral World', the new single from that. Hannah Fieldhouse is an accomplished vocalist and decent front person, a rare combination in itself, and did I mention she is also the lead guitar as well? This is a very talented band.
Representing Belgium – sounds almost Eurovision that – Elusion are next to take the stage, and I'm looking forward to some symphonic metal loveliness. And it is epic. Evy has an astonishing range and quality to her vocals, switching effortlessly between soprano to soulful stylings, but then, to my surprise, really good extreme growls and screams, is there nothing this lady can't do. The whole band screams quality through and through. And on top of that they are a very visual band, they are definitely a band that you need to see live. Stijn produced some beautiful melodic lead guitar parts that really added to their set. Heavy and dark switching to melodic and driving they had the audience eating out of the palm of their hand. The standard of songwriting and arrangement is stunning. The bar has been set really high this year.
Delivering their particular brand of hard rock, White Raven Down drive onto the stage. Now I have to admit I am not the world's biggest hard rock fan and did wonder if these might feel a bit out of place and old hat. They are more than just another hard rock band, however. With energetic driving rhythms and their first number really caught my attention. But then the bassist broke a string. They carried on regardless, filling the gap professionally and flawlessly until his return. This is the sign of a top-quality band. There is a speed metal element to what they do, and maybe this is what sets them apart. The vocals are also quite destinctive giving almost an Alter Bridge/Creed type feeling. All in all, they neatly sidestep the usual trap of being another 80's sounding band. Good on 'em.
FyreSky have just released their first album entitled 'The Grand Illusion', and what a debut album it is! I make no excuses, I really rate this band, they are so talented. Gabriel Valentine's vocals are bordering on spiritual and it is no surprise that he has been asked by Aonia to guest in the past. In fact Gabriel's vocals are so good it is easy to forget how good a guitarist he is.As they display their distinctive dark Gothic but beautifully melodic songs it is not hard to see why they have been given so many shining accolades. They have had to bring in a new guitarist, Nicole, this year, due to work commitments of their usual guitarist. They reckon she had one practice before the gig. I don't believe them, she's too good. With stage presence in abundance from all members of the band they have quickly built a solid following in the North. FyreSky are a band that I tip for greatness. Superb song writing and genius arrangements they redefine the term a great little rock and rollar band and really stand out from the crowd. They finish with an unbelievably fantastic version of 'Ashes'. If you have never seen them live, then you have never witnessed the true greatness that is FyreSky.
At last I get to see Lesbian Bed Death. They had been one of those bands that, whenever they gigged, I had other commitments. Considering that they have been going 19 years, I thought it's about time I got my act together. Disappointingly they have had to use backing tracks as they are two members down and specifically are in the process of getting a new lead guitarist.  However, they felt they didn't want to cancel the gig, so kudos. Wonderfully melodically gothic with punk elements, they still managed to entertain, no small feat as they were following the mighty FyreSky. Kitty Synthetica has a superb vocal range to her as well as a compelling stage presence typified by her energetic delivery of the songs. In some ways, Kitty reminded me of a female version of Iggy Pop: I think it was the intensity of her performance and her avante garde attitude. I loved their version of 'I Use My Powers For Evil'. They finished with 'Born To Die'.
Up next, the ÜR-approved Chasing Dragons are one of Leeds' finest exports. I think this is one of the bands I have most been looking forward to. I last saw them at HRH a couple of years ago and was really impressed. And from her entrance you just know that Tank is not taking prisoners. There is so much depth to her performance. And the rest of the band are just incredibly talented musicians, expertly guiding you on a metal path of discovery. Mature indicative songs for the connoisseur. Second song in and they're already doing 'Bare Knuckle Lover'. I think Chasing Dragons are a great example that bands do not need a label to produce great music. Murf and Kate produce a thunderous rhythm section. I'd forgotten just how good these two are. Adam is fairly new to me on guitar, but what an addition. I know Kate was having problems with the fold back system as there looked by her grimaces like there was some feedback issues, but she never missed a beat which is testament as to how good a drummer she is. The whole band make some incredibly technical music sound easy. Chasing Dragons are one of my favourite independent bands for very good reasons.
Aonia are on stage! What! Already? Where has the day gone. Where do I start? Aonia are one of my top bands, full of musical surprises and the only band I could think of that could headline this festival, the standard has been that high. Aonia are an incredible group of very, and I mean, very talented musicians. They have no problems getting the likes of Blaze Bayley to guest with them. Stu from Soul Shedder is still filling in on guitar and, to be honest, between him and Slick it is a bit of a dream team. And Tim weaving his keys in with consummate skill. They have just blasted into 'Wake Up Lucretia' – what a track that is. 'Silent Lament' is yet another great highlight from the show. But then they are previewing new tracks like 'Eye Of The Storm' from the recently released 'The Seven' album (2018).
And, of course, no Aonia gig would be complete without a version of 'Heartsword'. 'Masquerade' was another track that I hadn't heard them do live before, again beautifully performed. This could rapidly turn into a list such is their repertoire.
All content © Über Rock. Not to be reproduced in part or in whole without the express written permission of Über Rock.