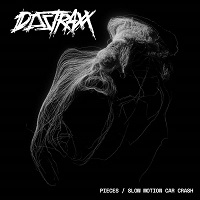 Although Disstraxx emerged from the ether only a year ago, this DIY band actually rose from the ashes of seven-year horror/synth punk project Autopsy Boys. Their bassist, Gary Hargreaves was of hardcore punks The Plight. Having immersed themselves as a band in the ÜK underground punk scene and having embraced a culture of antisocial behaviour, in the end in the words of singer Lee (Brönskibeat) Brunskjill Autopsy Boys imploded because ''the absolute chaos… and internal stuff eventually caught up with us''. So, they took some time, sorted themselves out, worked their regular jobs and waited until they had something important to say.
Lockdown provided the opportunity to create meaningful music again and so while Autopsy Boys' formation just kind of happened, the formation of Disstraxx is driven by intent and fuelled by experience. Free from that which would hold them back and looking for a fresh start Disstraxx released their first double A side earlier this year.
'Pieces' is immediately appealing; the distinctive aggressive bass intro sets the pace and leads to a classic hardcore rhythm belted out by drummer Alan Degenerates. Lee's tone draws you in, yes he's screaming but he isn't just screaming, it's a sound honed and refined. There's the backing vocal which should create a raucous and somewhat amateur DIY sound but you just don't get an amateur vibe from Disstraxx. You can hear the lived experience. You can feel the attitude in waves. More, the music is so well constructed and magnetic
The ironically named 'Slow-Motion Car Crash' is the track chosen to display the more extreme speed-fuelled thrash side of Distraxx, and they can definitely turn it on. A nostalgic sounding '80s era intro leads to a rousing verse. With a break built in you get the chance for a breath before it's full on pedal to the metal, i can just imagine the injuries resulting from hearing this one live.
Distraxx are known for putting music before profit and for their rejection of capitalist ideologies, something currently more common in the US than here in the UK. Their self-released single is available for as much as you would like to contribute on bandcamp. They're also known for their deadpan humour and morbid satire. What's not to like?
If you are looking for attitude filled, yet authentic sounding punk that stirs you up inside Disstraxx are it. They are currently working on a soon to be released second AA single and accompanying music video as well as the album and Lee, well he promises that what you will hear will just get better and better. Disstraxx's tagline is punk you'll hate to love… if that's not a challenge I don't know what is. Problem is, I think they've already won.
'Pieces/Slow Motion Car Crash' is out now. You can get your copy HERE.
All content © Über Rock. Not to be reproduced in part or in whole without the express written permission of Über Rock.