Written by DJ Astrocreep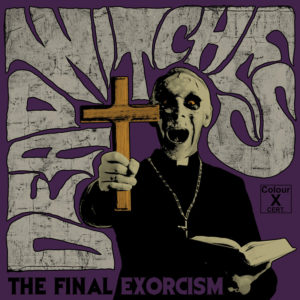 A horror doom album is always an interesting concept for me, so throwing some female vocals into the mix will always grab my attention. Considering Virginia Monti, of Psychedelic Witchcraft fame, has previously performed vocals for them, my interest is piqued even further. The main question for me is how it would stack against the debut, with the vocal change. Luckily for me, the answer to that is they have done extremely well!
A 35 second scene setter prepares us for the fuzzed out wah pedal fest that the album contains, very much in the manner of my eternal favourites Black Sabbath – indeed, this could sit easily alongside such luminaries such as those in terms of their sound, especially with current vocalist Soozi wailing seemingly in a mix of disdain and half shrieking Ozzy Osbourne like into the microphone. Second and also title track 'The Final Exorcism 'is a very good place to start, following the scene setter, to start the evil sounding guitars, set into such distortion that you almost feel your entire skull vibrate along to the riffs from your earphones. This is certainly music that is meant to be turned the fuck up, with Soozi's powerful style a great foil for the wickedness of the instruments set alongside.
Album closer 'Fear The Priest' has been launched as a single to show off the album and it's one of the best representations of their sound and a very good choice for just that. At nine and a half minutes, it's one of the longest tracks on the album, in some ways the evilest sounding too, as the album hits its own crescendo on this final track. There are also not so subtle hints at another Midlands act, Diamond Head, and to date, their magnus opus 'Am I Evil?', as the main riff harkens back to this old evil. The rest of the album seems to bubble and seethe with a mixture of melancholy, fear and anger in its presentation, setting the listener a touch on edge with some pretty heavy grooves.
The album has a similar feel right through, though not in a way that it feels like one idea has been used ad infinitum, rather the band have definitely further developed their strong sound on this release. The elements are all there for the band to continue on from this very strong showing to form something that will stand the test of time. While Black Sabbath retired last year, their spirit and legacy lives on in the form of such emerging acts as Dead Witches. The kings of metal may be dead and buried, but we can welcome in the upstarts vying for their throne, using their necromantic musical powers to keep the sound living on, albeit fashioned in their own image.
All content © Über Rock.  Not to be reproduced in part or in whole without the express written permission of Über Rock.