By Jonny Bakes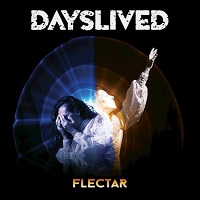 Tinged with sci-fi elements, the latest release from Italian prog-metallers Dayslived is possibly their most adventurous album to date. 'Flectar', the follow up to 2017's 'Reborn Lived', is the third outing for this female fronted outfit and shows that Dayslived are continuing to go from strength to strength with each new release.
As a whole, the album is clearly heavily steeped in science fiction and really manages to maintain an astral feel throughout. There is a heavy focus on synth which is great to see, and the variety of styles that Matteo unleashes is excellent. From '70s sounding organ sounds to full orchestral sounds, this album has them all. Each track is significantly different from the previous, and I'd go as far as to say that there are no elements repeated elsewhere in the album
The album is dominated by the fantastic vocals of Monik Fennelles who has a vocal style that I can really get behind. She conveys a significant amount of emotion with her varied vocal style, and some impressive mastering has resulted in great self-harmonisation. Her voice has really become pivotal for the band's new sound and introduces symphonic elements that work well with the rest of the band's input.
The album gets off to a strong start with the aptly named 'Another Start' by launching into an upbeat orchestral piece before taking a grittier turn. This is closely followed by those strong vocals of Monik. This wouldn't be prog metal without changes of pace and style within a song, and this track is no exception. A brief ballad catches the attention before launching back into the catchy chorus which is immediately followed by an almost astral sounding solo that wouldn't be out of place in Jeff Wayne's 'War of the Worlds'.
The astral/sci-fi feel continues with the short instrumental of the title track 'Flectar'. I'm surprised that this wasn't used as the opening track for the album and does feel that it may have been intended to be at one point. 'Another Start' does do a good job of attracting the attention of the listener however, and by leading into this instrumental it provides an interesting contrast before things pick up again with the first single off this album – 'Along Your Miles'.
I can see why this was chosen as the first single, it's certainly a catchy number! This will certainly be a popular choice in the Dayslived live show as it has all the right elements – Great tempo, catchy chorus and a shredding solo to really get that crowd pumped.
Things get darker with 'Trioria' which is low and heavy but with some fantastic synth overlay, at times it sounds like it could belong in Rhapsody of Fire, at other times it sounds more Deep Purple-request (think 'Speed King'). A spoken word section backed with haunting chimes leads this song out before finishing with a chilling whisper of 'I survived'. A completely unexpected piano ballad opens the next track, 'My Angel Said', that invokes memories of Billy Joel…. had Billy Joel been a strong female vocalist that is. It develops into an impressive metal ballad before featuring another astral sounding solo. This is very much a song of love and loss, but also carries a strong message of self-preservation.
The bass line that accompanies the introduction to 'Touching the Clouds' has some serious groove to it that really caught my attention and at times reminded me of the dark music you used to get in games such as the Unreal series. I realise I'm pulling likenesses from all over the shop, but that's the beauty of the variety exhibited in this album!
Each subsequent track brings something new to the table, which keeps this album exciting, and things get more epic as the album reaches its conclusion. 'Non Frangar' is another heavy song that leads into the final track 'Master Musica' which starts as a subtle waltz before belting into a passionate closing number.  This really does feel like an closer, almost a like final battle they moves into the closing credits.
This is definitely an album for those who like their prog metal with a side of symphonic. Sometimes prog can suffer from an over focus on technicality which means it is sometimes dismissed as a genre purely for musicians, but I feel that 'Flectar' is a more accessible example of prog metal and well worth a go.
'Flectar' is out now. You can get your copy HERE.
www.facebook.com/dayslivedofficial/
All content © Über Rock. Not to be reproduced in part or in whole without the express written permission of Über Rock.