By Jim Rowland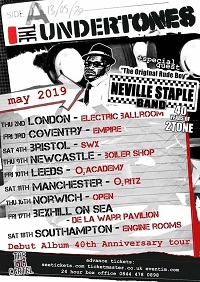 1979 was, of course, a great year for music and there weren't many better albums released that year than the self-titled debut album from Derry's The Undertones. It was, and remains, a classic of the punk era. This tour sees the band commemorate the 40th anniversary of that album and kicks off with this date at Camden's Electric Ballroom almost 40 years to the day since the album's release.
Another great 1979 debut album was that of The Specials, and support for this tour is provided by original Special Neville Staple. The Ballroom is already packed for his set, giving this show the feel of a double bill, and Staple and his band go down a storm as they deliver old Specials classics like 'Gangsters', 'A Message To You Rudy', 'Do The Dog', 'Too Hot', 'Ghost Town' and a radically different version of 'Do Nothing'. The Fun Boy Three's 'The Lunatics Have Taken Over The Asylum' gets resurrected too, but it's the old ska nuggets from the 'Too Much Too Young' live EP, namely 'Guns Of Navarone', 'Long Shot Kick The Bucket', 'Liquidator' and 'Skinhead Moonstomp', that really get the crowd going, crowning a triumphant set for the former Special.
The Undertones resist the temptation to play the whole of the debut album in order, as many of their contemporaries have in recent times, instead opting to deliver just about every track in bursts during the course of the set. So in addition to standard opener 'Family Entertainment' and the familiar singles 'Jimmy Jimmy' and 'Here Comes the Summer', as well as the inevitable 'Teenage Kicks', it's great to hear album tracks like 'Billy's Third', 'Jump Boys', 'I Gotta Getta', '(She's A) Runaround' and 'I Know A Girl', all classics of course, and none more so than one of my personal favourites from that album, and one of its most punky moments, the awesome 'Male Model'.
Two tracks from 1981's underrated 'Positive Touch' positively shine in the shape of 'It's Going To Happen' and 'When Saturday Comes', as do 'Hypnotised' tracks like 'Wednesday Week', 'Nine Times Out Of Ten' and 'Tearproof', and then of course there's killer singles like 'Get Over You' and 'You've Got My Number'. Another classic single, 'My Perfect Cousin', kicks off a riotous encore that seems to get extended song by song as the band battle against the 11.00 curfew whilst seemingly wanting to play all night. 'Hypnotised' is mesmerising, 'Emergency Case' is a most welcome early gem and they finally round things off with a second rendition of 'Teenage Kicks'.
It must be said what a magnificent job Paul McLoone does fronting the Undertones. He's been fronting them since they reformed in 1999 but it's amazing how many people still expect Feargal Sharkey to be there, or turn their nose up at Sharkey not being there. In the Undertones' initial tenure, Feargal Sharkey was brilliant and provided the vocals on all those classic records, but he didn't want to join in when they reformed and to honest, I don't think it would have worked anyway. McLoone's voice isn't a million miles away from that of Sharkey, but he's certainly his own man, hugely charismatic and exuding the sense of fun that characterises so many of the Undertones' songs. On top of that, you still have all of the other original members on top form, with the smattering of more recent songs thrown in proving they can still pen a very decent tune indeed.
As a live act, The Undertones are still hard to beat; you can't go wrong with that catalogue of quality songs. This was a truly outstanding show – I'm not sure I'll see much better this year.
The Undertones' 40th anniversary tour continues at the Boiler Shop in Newcastle Upon Tyne tomorrow (Thursday 9 April) and then as follows:
Friday 10 April – Leeds, O2 Academy
Saturday 11 April – Manchester, O2 Ritz
Thursday 16 April – Norwich, Open
Friday 17 April – Bexhill On Sea, De La Warr Pavilion
Saturday 18 April – Southampton, Engine Rooms
They then play the following festival dates over the summer:
Saturday 6 July – Liverpool, Feis
Saturday 20 July – Perth, Rewind Scotland
Saturday 3 August – Macclesfield, Rewind North
Sunday 4 August – Cork, Indiependence Festival
Saturday 17 August – Henley-On-Thames, Rewind South
All content © Über Rock. Not to be reproduced in part or in whole without the express written permission of Über