By DJ Monk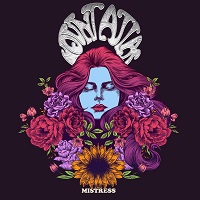 One song introduced with a swelling organ – of the Hammond variety, you dirty-minded lot – and another with a cowbell… German doomsters Mount Atlas obviously have been reading my reviews and know how to wind their way straight into my darkened rock 'n' roll soul, as they stick two of my favourite instruments up front and centre and attract my attention right from the off. Fuck the rest of what is going on: I'm hooked right away.
Fortunately, the rest of what is actually going on stands up to scrutiny, as the four tracks contained on this compact little EP not only grabbed my attention but held it for repeated listenings. Having missed out on their debut album, 'Titan', when it was first released (a mistake I have subsequently rectified by picking up one of the few remaining copies from their Facebook store), this was my first introduction to these nice chaps from Lower Saxony, and I must say that I am rather pleased that I have finally made their acquaintance.
The aforementioned Hammond, courtesy of Christoph Ramke, intros the title track, which in turn grooves and thumps in equal measure, referencing heavier Mk2 Deep Purple as much as it the lighter end of the doom mien as expounded by the likes of Blue Öyster Cult, Spiritual Beggars or Grand Magus. Indeed, if you were to make a direct comparison it would be with the Swedish metal maestros: this is probably what they would sound like if they added keyboards and ramped them through Fox's bass rig.
'Pace' lives up to its title, picking it up and ramming it to the floor faster than a Ferrari around the test track at Imola, yet retaining that all-important sense of melody as it eases into the mid-course bend before opening up the throttle again the solo. And then comes the cowbell: fuck me pink and sideways, it's the perfect intro to 'Evil Side', which in itself is a nigh-on perfect evocation of the classic era of heavy metal, with its huge melody and singalong spirit. This song alone is a work of genius that is worth the price of the EP any day of the week.
Not that closer 'The Unknown' is in anyway an anti-climax: nothing could be further from the truth. Evoking the spirit of classic Uriah Heep, especially in the lyrical department, it again grooves and grunts its way into becoming another immediate earworm. And, again, they add in a keyboard solo which not only beautifully counterparts what is going on with the killer twin guitars but is guaranteed to have any self-respecting metallian grinning with joy and giving his best Ric Flair-style "woo" as the song's embers die in the speakers, but not before the "repeat" button is hit. Fantastic stuff.
'Mistress' is released on Friday (10 May). You can get your copy HERE.
www.facebook.com/MountAtlas42/
All content © Über Rock. Not to be reproduced in part or in whole without the express written permission of Über Rock.