Words by DJ Monk. Photos by The Dark Queen.
Regular ÜR readers will know only too well that one of my pet hates at gigs, and especially acoustic/unplugged shows, is people who think the sound of their own voices is more important than that of the artist on stage whom both they and everyone else present has paid to actually hear. On the day of this, the Tyketto frontman Danny Vaughn's return to this particular corner of the Überverse, social media had been jammed with complaints about such discourteous behaviour at previous shows, and particularly that in Scotland the previous evening, something which was addressed by the singer himself at the very outset of this particular show – but, we'll come back to that in a bit…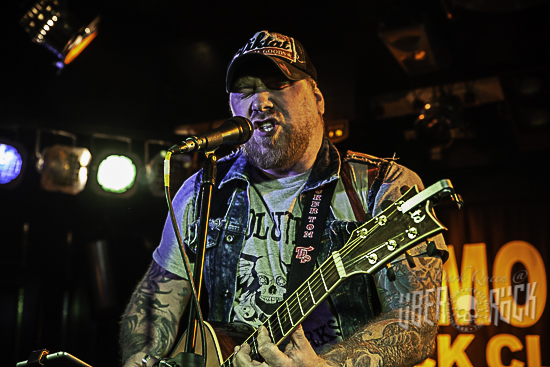 Talking of frontmen, Trucker Diablo's Tom Harte seems to be becoming the support act of choice for shows of this nature, especially since the release last year of his first solo EP. Not that anyone, least of all your Über team, has any complaints, as he is an extremely talented and erudite songwriter, and this sort of environment allows him to stretch his not inconsiderable musical muscles in a different direction.
Kicking off with Trucker's 'Other Side Of The City', he quickly demonstrates his prodigious work-rate with a brand new song, 'Roll Your Windows Down', which he reveals may well end up on the band's next studio album. While Ton displays his usual humour in his between song banter – "I have a wee EP out, but this isn't on it" he says of 'One More Minute' before describing 'Never Drinking Again' as "a big fat lie" (as he simultaneously takes another swig from his ever-present bottle of Newcie Brown – the aforementioned issue of people talking raising its head, with the eloquent 'What About Us' all but drowned out by a group of middle-aged culchies sat directly in front of us discussing whether white chocolate is actually chocolate! Still, that proves a minor distraction as Trucker Tom serves up another pleasing appetizer for the main course.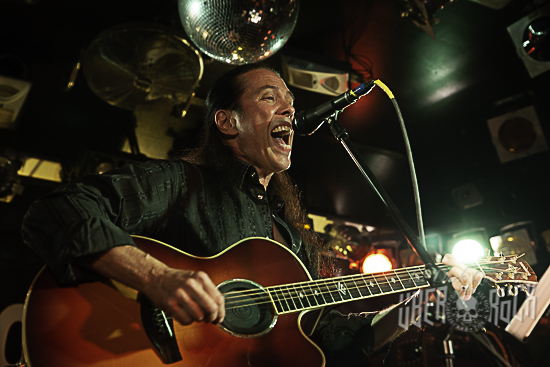 As the strains of 'Danny Boy' fade from the DRC's overhead speakers, a few initial tuning issues give Vaughn the chance to address that elephant in the room and subtly ask people not to talk, "if not out of respect for me as an artist but for those who have paid to hear the artist", adding cheekily that "if I had the full band with me I wouldn't give a damn, 'cos Chris is louder than all of you… but when I'm up here on my own…"
Well, I'm glad to report that, apart from a couple of (very) isolated pockets, and the occasional overspill from people ordering drinks at the bar, this was one of the most respectful audiences I have been a part of for a show of this nature for quite some time – something acknowledged by Vaughn afterwards when we were chatting over a post-show beverage and he described this evening as the best night of the tour so far…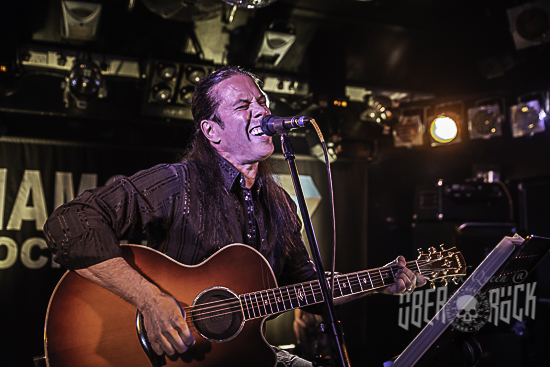 As for the set itself, it's a two-and-a-half hour plundering of his catalogue, and a little more. His new solo album, 'Myths, Legends And Lies', of course gets a good airing, but so too do his Tyketto and Waysted discographies, with quite a few very pleasant surprises thrown in along the way (well, he does reveal that he has a setlist of 100+ songs prepped for this particular jaunt around the Über Kingdom of Rock 'n' Roll.
He's in magnificent voice and terrific form, full of his usual, often humorous yarns, from the story of Tony, the New York wino who inspired him to write his first ever song to the fact that, after years of visiting this corner of the Überverse and playing a combination of traditional tunes and T'in Lizzy covers (yes, he even nails the Dublin brogue), he now has "an Irish song of my own", the shape of current single 'The Shadow Of King John'.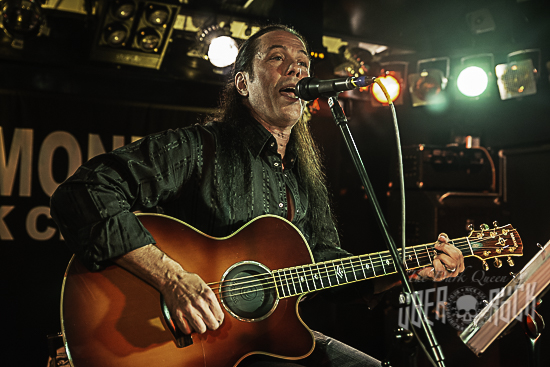 Until recently, Vaughn held the the record for the longest ever set performed at this particular venue (it was broken earlier this year by Mike Tramp). Tonight didn't quite come close to even threatening to reclaim that accolade, but what it did do is prove what a great showman he is, and how he can hold an audience's attention in a way which can make several hours seem like only a few moments. It's a feat not many artists can achieve, but Vaughn always does so effortlessly – and, he's a genuinely nice guy too boot!
The tour continues at The Black Heart in Camden tomorrow (Thursday 22 August) and then The Cluny 2 in Newcastle Upon Tyne on Friday (23 August), before finishing up at Eleven in Stoke-on-Trent on Thursday 29 and The Asylum in Birmingham on Friday 30.
Tyketto play Queen's Hall in Nuneaton on Friday 25 October and Corporation in Sheffield on Saturday 26 October.
PHOTO CREDIT: All photos © The Dark Queen/ Über Rock. You can view our full gallery of photographs HERE.
All content © Über Rock. Not to be reproduced in part or in whole without the express written permission of Über Rock.