By DJ Monk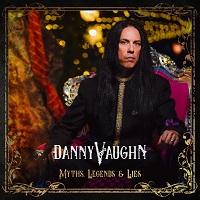 Tyketto singer Danny Vaughn describes this, his first solo album in 11 years, as the one he has always wanted to make, featuring "a bunch of songs I call my orphans: they're a group of numbers, collected over decades, that I never found a proper home for". As its title suggests, it is also an album influenced by his lifelong love of storytelling, something he traces back to the bedtime stories read to him by his parents – the tales of Greek mythology, of 'The Lord Of The Rings', the antics of the Monkey King, Sherlock Holmes and more, all drawn together in this collection that has been a decade and a half in the making…
Of course, it's also the album that almost didn't happen. As reported right here on ÜR back in January, Vaughn was one of the victims of the massive scandal which engulfed the PledgeMusic funding platform, leaving him, like so many other artists, faced with the prospect of bankrupting himself in order to even record the thing, never mind get it out there into the public domain.
Now, anyone expecting a straightforward acoustic solo album from Vaughn will be both disappointed and surprised in equal measure: for a start, he entered the studio with a full band (including Tyketto bandmate Chris Childs on bass, alongside drummer Rhys Morgan and pianist Nigel Hopkins) to record this collection of "orphan songs", his personal homage not only to his childhood storytellers but also the songwriters who in turn shaped his musical career, from John Hiatt and Tom Waits to Bruce Hornsby, Bernie Taupin to, heaven forefend, Van Morrison. Along the way, he has produced a collection of songs which reference a variety of equally diverse musical influences, from blues through soul to jazz and traditional rock 'n' roll – and, most predominantly, folk: although, surprisingly, it is his adopted love of Irish music rather than his own American heritage which prevails…
This is clearly demonstrated on the rather unusual opener, 'The Shadow Of King John', a rambunctious Irish jig, reflecting Vaughn's love the Emerald Isle, where he is a frequent visitor (he's back this summer as part of his annual acoustic tour). It's the sort of rowdy fireside folk rocker that comfortably would sit on a Dropkick Murphys or Flogging Molly opus, especially as Vaughn's own vocal is practically unrecognisable. Folk references litter the album, such as on the mandolin intro to 'Man Or Machine', which quickly evolves into an anthemic slice of southern rock redolent of the likes of 'The Devil Went Down To Georgia' in its underlying theme: and its only on the second song's chorus that Vaughn's distinctive vocal starts to become more identifiable.
'The Missouri Kid' – apparently the first song Vaughn wrote when he was 18 – is the first of what could be the "expected" style of songs, much closer in its still to the sort of middle-of-the-road hard rock with which he has made his name, but with a nice country tonality, especially in the slide guitar which pokes gently through the melody.
Now, as astute readers will probably have gathered, there are multiple influences at play throughout 'Myths, Legends & Lies', and also several different styles employed to make each of the 14 songs individual in their own right. I've already mentioned folk, hard rock and country: as the album progresses, gospel, soul, blues and jazz are also drawn into the mix. There's a New Orleans gris-gris vibe to 'The Good Life', for example, especially in the use of wailing violin, Little Steven-style Cajun guitar stabs and the ever compelling Hammond organ, while 'The Last Ride Of The Sunset Men'  intermingles a jaunty country jamboree with an English sea shanty vibe. 'Black Crow', on the other hand, is a dark slice of gothic noir that draws on the dark poetry of the likes of Waits and Cave, while, aside from its tongue-in-cheek lyrics 'Monkeys With Money And Guns' is the sort of upbeat gospel blues swing that the likes of Danny Bryant or Alan Nimmo would probably sell several guitars to get their hands on.
'Point The Way' is a poignant tale of life on the road and the unexpected twists it takes, and sits comfortably in the sort of territory inhabited by ÜR's old friend Baz Francis, while 'Deep Water' is another big band swagger that sees Vaughn explore another unexpected direction to interesting, and ultimately entertaining, effect. Slightly later, Vaughn once again invokes the big band era, this time in the much more smoky lounge vibe of 'Something I Picked Up Along The Way', which is one of my favourite tracks on the album, with its Coltrane-esque louchness. Another of my personal picks is  'Seven Bells', with its epic soundtrack feel, while closer 'What You Left Behind' manages to balance mournful joyous with a fine tipping point.
There is a danger that, with the employment of so many different styles, 'Myths, Legends & Lies' could be seen as incoherent – and, if I'm brutally honest, that is a perfectly valid argument. It could be said that Vaughn perhaps has over-reached himself by trying to cram so much music, and of so much variety, onto one album, and that, in fact, this really could be two, or maybe even more, albums – one concentrating on the country-folk elements, another of more "traditional" acoustic rock songs, and maybe a third "big band" style opus. But, on the other hand, this is an album that throws the rule book out the car window as it roars down the dusty byways of Vaughn's adopted Spain. As the singer suggests in 'Point The Way', it is an album that asks a lot of questions, and while not perfect it does also provide a lot of answers to those same queries, most especially in showing that its creator is no one trick pony but a highly knowledgeable musical historian who has mined the archive of his memory banks and, at the end of the day, produced an album that he can, quite rightly, view as a personal triumph.
'Myths, Legends & Lies' is released next Friday (7 June). You can get your copy HERE.
Danny Vaughn plays Yardbirds in Grimsby tonight (Thursday 30 May) and then the following dates:
Friday 21 June – Sabinillas, O'Callaghan's Bar
Thursday 27 June – Cangas, La Buena Vida
Friday 28 June – Cangas, La Buena Vida
Saturday 29 June – Cangas, La Buena Vida
Thursday 11 July – Edinburgh, Bannermans
Friday 12 July – Blackpool, Waterloo Music Bar
Saturday 13 July – Whitby, Sanders Yard Bistro (Sold Out)
Friday 19 July – Nuneaton, Queen's Hall
Saturday 20 July – Buckley, Tivoli
Friday 16 August – Bathgate, The Dreadnought
Saturday 17 August – Ahoghill, The Diamond Rock Bar
Thursday 22 August – Camden, The Black Heart
Friday 23 August – Newcastle Upon Tyne, The Cluny 2
Thursday 29 August – Stoke-on-Trent, Eleven
Friday 30 August – Birmingham, The Asylum
www.facebook.com/Danny-Vaughn-49167339391/
All content © Über Rock. Not to be reproduced in part or in whole without the express written permission of Über Rock.