By DJ Monk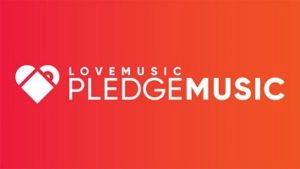 Something is rotten in the state of Pledge – and it appears it has been the case for quite some time.
PledgeMusic has been one of the most popular crowd-funding platforms for musicians for almost a decade: indeed, it is the model on which most similar funding mechanisms are built.  It has allowed thousands of fans to support thousands of their favourite bands by doing exactly what the name suggests – pledging money directly to the funding of the music they love. Over the years, it is reckoned that the platform has generated more than £100 million in income for some 50,000 plus projects.
However, over the past week or so, major problems have emerged, with many, many artists coming forward to say that the funding mechanism is not working, at least not to their advantage, with the vast majority of them having to make up the "pledges" out of their own pockets in order to fulfil the desires of their devoted fans. Wolverhampton hard rockers Gin Annie, whose debut album '100% Proof' was released on the day the scandal broke, were quick to assure fans they would get what they had paid for: "It was our priority that you good people get exactly what you ordered through Pledge. All of that was sorted today! YOU are our priority, YOU are why we do this and we will not let you down. These guys are our problem."
The issue first came to attention of many, including us at ÜRHQ, when Tyketto frontman Danny Vaughn posted a powerful video, outlining the extent of the problem he and many other musicians were experiencing. In his message, Vaughn revealed that Pledge owed him thousands of pounds which fans had committed to his new solo album, which he has started recording this week:
As the media have delved deeper into the story, it quickly became obvious that Vaughn was not alone in his travails: indeed, it appears that it has been a problem for quite some time – the last year at least! On the same day Vaughn posted his video, the US music mag Billboard revealed that other artists, such as the electro-industrial band OhGR, who apparently are owed $100,000, and '90s pop-rockers Fastball had been experiencing problems as far back as the Spring of 2018. Subsequently, Vaughn's wife Melissa has been drawing up a list of other artists affected by the issue. They include the likes of The Quireboys, The Men They Couldn't Hang, Jesus Jones, Whisky Priests, Dogs d'Amour, Tokyo Taboo, The Spangles, Lee Aaron and Kikamora. Many more bands are coming forward on a daily basis and are joining the ever growing calls for fans to withdraw their support from a mechanism many of them previously saw as an invaluable lifeline.
Another band to have spoken publicly about the issue of non-payments are The Lounge Kittens, who were using the platform to fund their latest EP. They echoed many of the points made by Vaughn.
"Pledge is supposed to pay out 60 per cent of the original target amount once the campaign hits 100 per cent and the fans' cards have been charged", Zan "Business Kitten" told us. "That was in October and to date we've only received half of that initial sum. Pledge have promised that the money is coming but they haven't been able to tell us when. We were hoping a solution would be reached without needing to worry our pledgers but we've reached the point where we simply don't want to risk any more of our fans' hard earned cash.
"Although our album campaign in 2016 was a success, we weren't keen on using PledgeMusic again as their commission is really high and their payment structure still leaves artists having to foot a lot of the production costs themselves initially, as most funds aren't released until the project is completed and all Pledge items fulfilled. However, we decided that from a fan perspective they were the best option both in terms of functionality and trust from having used them for TLK stuff in the past."
The band are urging fans to avoid using the official PledgeMusic campaign and instead order directly from their website: "This means 100 per cent of the money comes straight to us so there's no chance of it going awol. We are absolutely gutted. Our team has worked so hard on this EP and everything that goes with it and it's absolutely devastating not being able to pay their invoices. These aren't big record companies, they're freelancers and small businesses, like us, who deserve to be paid on time."
The Lounge Kittens have assured fans the EP is going into production this week, the release schedule will remain the same and that they'll do their best to fulfil all pledges in the agreed timeframe.
PledgeMusic have issued a statement about the situation:
"PledgeMusic has always been committed to serving artist and fan communities. It was established by artists and was born of a need to change the way in which the traditional music industry operated. It was designed to help artists and their teams at every level, and we believe that PledgeMusic has become an essential part of the evolving landscape of the music industry.
"That said, we deeply regret that recently we have not lived up to the high standards to which PledgeMusic has always held itself. We acknowledge that many artists have and continue to experience payment delays. These delays to artists are unacceptable — not only to them, but to us.
"Mid 2017, new investors came into PledgeMusic with the goal of strengthening the company and improving the value proposition for artists and fans. After substantial investments in the business over the past 18 months, we believe we have made good progress to that end, but it hasn't been enough. That said, the company has cut its operating expenses nearly in half over the past year. We've overhauled key parts of our financial and operating systems, while adding talent to our roster and making enhancements to the platform like our Vinyl Store, D2C artist store-fronting and our data analytics. While the company has made progress, we still haven't reached our goals.
"PledgeMusic has been in discussions with several strategic players in the industry who have interest in the PledgeMusic platform. We are evaluating a number of transactions with those potential partners, and we plan to announce details of this in the next 60 days. It is our expectation that payments will be brought current within the next 90 days. We accept responsibility for the fact that we have been late on payments over the past year. PledgeMusic is working tirelessly on this issue, and we are asking our community for their continued support and patience."
This is a situation which is evolving on a daily basis. We can only hope that it can be resolved to the benefit of both the bands and the fans. However, it does beggar one question: what does it mean for the future of the crowd-funding model? Hopefully, it means it can be reshaped into something more positive and trustworthy, for everyone concerned.
All content © Über Rock.  Not to be reproduced in part or in whole without the express written permission of Über Rock.