By Monk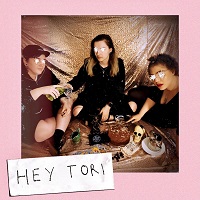 It could be argued that this, the second EP from Northern Ireland all-female pop punk trio Cherym, has been released too late in the year, as it could well have provided the perfect soundtrack for the amazingly sunny summer with which we were strangely blessed. On the other hand, it could equally be argued that its timing perfect, coming as we emerge from the darkness of the past 18 months only to plunge in that of lengthening Autumn nights, thus serving as a ray of light shining brightly in the gloom of the coming weeks and months.
Describing themselves alternately as "three basic bitches" and "three grown men with hairy chests", Cherym – pronounced "chair-um" – hail from Derry/Londonderry, a city rich in pop punk heritage thanks to predecessors such as The Undertones and, to a lesser extent, The Moondogs. And Hannah, Nyree and Alannagh are certainly carrying on that tradition with cheerful aplomb, as these five tracks evince.
Three of the tracks – 'Kisses On My Cards', 'Listening To My Head' and 'We're Just Friends' – have already been released as singles, and so may well be familiar to many pop punk fans. They summarize the band's sound very neatly: bright and breezy power pop earworms which are as infectious as a dose of the clap in a nunnery and draw from the likes of Bikini Kill, The Go-Gos and the Riot Grrl sound as much as they echo Norn Irish compatriots Ash, Brand New Friend and Problem Patterns.
If you like your pop punk on the bright, breezy and summery side, with massive vocal harmonies and catchy riffs and hooks, then this definitely is one EP you should be checking out – and adding to your collection, of course.
'Hey Tori' was released yesterday (Friday 1 October). You can get your copy HERE.
Cherym head out on tour this month, starting in London next Wednesday (6 October). Full dates HERE.
www.facebook.com/cherymofficial
All content © Über Rock. Not to be reproduced in part or in whole without the express written permission of Über Rock.