By Monk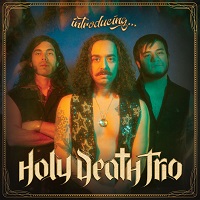 Well, if you're going to introduce yourself to the rock 'n' roll Überverse, then there can be few more appropriate titles for a debut album than this one from Texan threesome (well, the sort of makes sense as well, given the band's name) Holy Death Trio. Raised on a diet of Hendrix, Iommi and whiskey, mark their arrival by strolling and strutting through seven songs that are steeped in the tradition of good old-fashioned no-nonsense hard rock played for the sheer enjoyment of it…
I mentioned being steeped in musical tradition, and the band wear their influences very firmly on their sleeves. The opening of 'White Betty', for example, has an 'Immigrant Song' vibe to it, while that of 'Bad Vibrations' has a very 'Highway Star' vibe to it, and later on 'Fishsticks' would not have sounded out of place in Alice Cooper's early '70s catalogue: none of this is meant as a criticism or derogation of the band or their sound, merely an indicator of the pedigree from which HDT are drawing. Elsewhere, the band effectively and eruditely mix psychedelic doom and speed metal miens, among others, into classic rock and metal moulds, with more than passing nods to other generic predecessors such as Motörhead and, perhaps understandably, ZZ Top, as well as notable contemporary counterparts such as Clutch and Mastodon.
Opening with the sound of someone, presumably guitarist John P. Rosales, walking into a room and plugging in (a motif which is reprised, but in reverse, at its conclusion), the album has the sound of having been recorded more or less live in the studio, such is the vibrancy of the sound, with some of the songs evoking the feeling of quite possibly having had sections jammed out during the recording sessions.
While not straying too far from the basic formulae, 'Introducing…' is by no means formulaic. It moulds its various influences into a playful and rewarding listening experience, declaring the arrival of a band who have the distinct potential to be a major force on the NWoCR scene in the years to come.
'Introducing…' is out now. You can get your copy HERE.
www.facebook.com/HolyDeathTrio
All content © Über Rock. Not to be reproduced in part or in whole without the express written permission of Über Rock.