By DJ Monk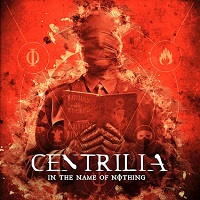 Now and again, an album comes along that changes your thoughts on a genre. For example, regular readers will know that I'm not a massive fan of metalcore, and I've often said that it's genre in danger of dying on its feet, if it hasn't already called for the gravediggers. And then along come along a band like Glaswegians bruisers Centrilia, who breathe new life into the flagellating corpse and present something genuinely new, exciting and fresh.
The Scottish crüe certainly called in some heavyweight help to craft this stunning exemplar of modern metal at its finest, with legendary producer Terry Date joining the likes of Pelle Henricsson (known for his work with the likes of Meshuggah and Cult Of Luna) and Steven Jones (Bleed From Within) in helming the desk and helping bring the debut full-lengther to kicking, screaming, bleeding life. The result is an album that sounds experienced yet fresh, and helps to twist the entire definition of "metalcore" on its head by almost totally re-inventing the sound in a way which has not been attempted from the earliest days of the sub-genre.
Music journalists love using superlatives, and I am certainly no exception, but descriptives such as "crushing", "ferocious" and "intense" do not even begin to do 'In The Name…' justice, as it is perfect on every level, from the brilliantly, and thoughfully, crafted songs through the individual and collective performances by each of the four members to the expectedly precise and warm production, which draws out each and every nuance of the other factors involved.
It is an album that jumps out of the speakers and forces you to pay attention, with its combination of belief, emotion, passion, power and savage intent. It is an album that takes no prisoners, that doesn't give any quarter, nor asks for any in return. It is a punishing listen, but in a highly positive sense, as it is brutal without every brutalizing. It contains layers which need to peeled back with repeated listens to discover the richness of sonic delights which lie beneath the force of the initial impact.
In short, it is an essential listen, and needless to say purchase, for every true metal fan on the search for something that will genuinely excite and reward them.
'In The Name Of Nothing' is released on Friday (28 June). You can get your copy HERE.
Centrilia host the official album launch at Barrowland 2 in Glasgow on Saturday 20 July. They then play Smashed Fest II at the Twa Tams in Perth on Saturday 27 July and Hordes X Outreach at Nice N Sleazy in Glasgow on Friday 27 September.
All content © Über Rock. Not to be reproduced in part or in whole without the express written permission of Über Rock.